A Twitter war has broken out over DJ David Guetta's latest release 'This One's For You', which he will be co-working with Swedish superstar Zara Larrson. DJ Snake and Diplo collaborators on Major Lazer's hit "Lean On", took to Twitter to attach Guetta for creating, what snake calls a 'fake' and 'horrible' version of their popular dance track.
"Lean On", created by producer Diplo's Major Lazer project in collaboration with DJ Snake, has become an iconic modern-day EDM anthem across the globe, with its signature chipmunk style vocal refrain instantly recognizable to EDM fans. With the recent release of David Guetta's 'This One's For You', Diplo and DJ Snake have recognised their own hit "Lean On' in it. They have expressed their displeasure over Twitter.
DJ Snake, in a series of since-deleted tweets, called Guetta's track "horrible" and a "fake 'Lean On,'" adding, "you used to be a boss David.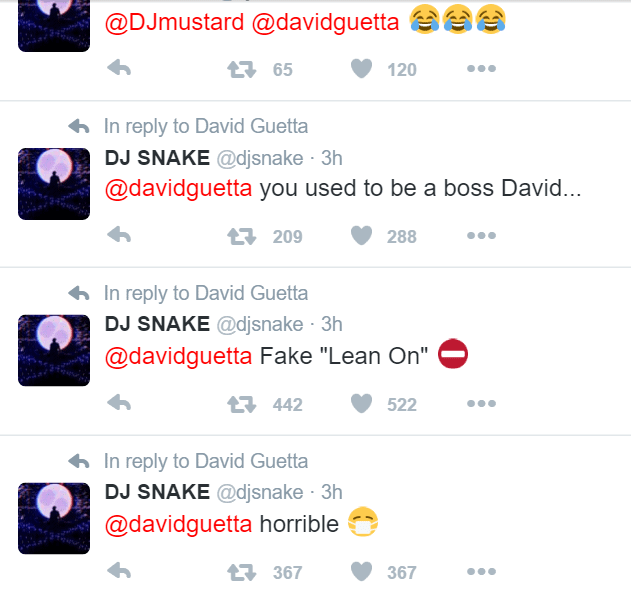 Diplo then chimed in to agree with Snake, adding, "I hope the kids realize that we always try to innovate and its easy for @davidguetta to do whatever in a quest for relevance … U can't rip us off and go unnoticed, it's a small community here." Diplo continued to accuse Guetta of "straight jack(ing)" their song, which, to date, has over 1.3 billion YouTube plays.
Diplo's also had a dig at Guetta's vintage, "I respect my elders but when they straight jack us its clap back season," he wrote.
https://twitter.com/diplo/status/730864964618076161
While "This One's for You" doesn't necessarily sound like a complete ripoff of "Lean On," the songs do share many similarities. Listen to how similar both sound from below. Do you think thier criticism fair? Let us know in the comments section below.