Grammy-nominated German DJ Robin Schulz releases his 18-track, third studio album – Uncovered – on Big Beat Records. Inspired by months of shooting his documentary film, "Robin Schulz – The Movie," the acclaimed German hitmaker now invites fans to a new chapter of his groundbreaking work.
It's been three years since Schulz first caused a stir at the top of the worldwide singles charts for his acclaimed remix of "Waves (feat. Mr. Probz)" and the massive global hit "Prayer In C (feat. Lilly Wood & The Prick)."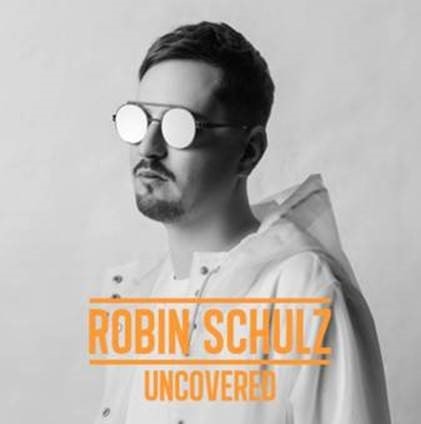 With his unique blend of house, electro and pop, the DJ and producer – hailing from north-west Germany – has quickly made his ascent to the most successful German music export of the past two decades. After countless #1 hits in over 20 markets, more than 200 gold and platinum awards, and billions of streams of his songs and videos – Schulz now presents himself completely "uncovered" on his latest LP.
"I'm not really known for giving a lot of interviews," says Robin with regard to finding the title for his third studio album. "While working on the movie, I talked about my life and career in-depth for the first time. During this time, the idea came up to call the record 'Uncovered.'"
Working on the tracks for just under 13 months, Robin devoted himself to coming up with multi-faceted and stylistically diverse sounds for "Uncovered," as evidenced by his three pre-released singles – the gold-certified David Guetta/Cheat Codes collab "Shed A Light," the platinum-certified "OK" (feat. James Blunt) and the recent "I Believe I'm Fine" (with HUGEL).
The album's 18 tracks came into being during Schulz's non-stop touring – featuring sold-out shows throughout North and South America, Europe, Asia, and Australia, support on select dates of Justin Bieber's Purpose World Tour, festival performances ranging from Ultra Music Festival to Tomorrowland Festivals in Belgium and Brazil, and immensely popular residencies in Las Vegas and Ibiza.
"The ideas came together all around the world," says Robin. "We started last year in Ibiza, and afterwards the work continued in all kinds of places around the world. For the final touches, we sought out a studio in Germany. The support shows for Justin were absolutely incredible. The crowd was extremely energetic and partying hard to my songs. Plus, Justin is super nice and just a really cool dude. That experience was definitely a highlight of my career that I will treasure for a long time to come."
With the featured guests on 'Uncovered,' Schulz managed to yet again surround himself with the perfect balance of international superstars and hot "must-watch" talents in the studio including world class artists David Guetta, James Blunt, and Sam Martin as well as promising newcomers like French whiz kid HUGEL, US singer/songwriter Marc Scibilia, and Swedish songstress Rhys.
"I take my inspiration from many sources," comments Robin. "It can be just about anything! A great voice, a great song or just generally someone I've wanted to work with for a long time and that I admire. For me, it's not so much about the big names but rather whether it inspires me. I have to really be enthralled by it… For example, David Guetta and I have known each other for several years and he has supported me since the very beginning of my career. After several remixes, it was about time to make a record together. Due to our busy schedules, 'Shed a Light (ft. Cheat Codes)' essentially came about on the internet. We worked on it simultaneously and traded our results on a daily basis."
Prior to this album's singles, Schulz also found tremendous success in 2015 with "Sugar (feat. Francesco Yates)," which went on to be streamed over 600 million times worldwide. Perhaps most impressive, his debut track – the record-setting "Prayer in C" – stands as the most successful track internationally of any German act to date. Less than three years in the making, Schulz ranks among the most sought after acts on the globe, as well as one of the most streamed artists worldwide, raking in 3 billion plays and counting.
He has also topped the singles charts in more than 20 countries, has earned over 200 gold and platinum certifications, a GRAMMY nomination, three ECHOs (German GRAMMY Awards), and record sales in excess of 12.3 million.
One day after the release of 'Uncovered,' Schulz kicks off his extensive world tour, beginning with concerts in Germany followed by gigs in Asia, US, and South America leading into 2018.
UPCOMING LIVE DATES:
Saturday, September 30th @ Olympiahalle – Munich, Germany
Thursday, October 5th @ F*** Me I'm Famous w/ David Guetta – Ibiza, Spain
Saturday, October 7th @ Velodrome – Berlin, Germany
Friday, October 13th @ Zénith de Paris – Paris, France
Thursday, October 19th @ Barclaycard Arena – Hamburg, Germany
Friday, October 20th @ König Pilsener Arena – Oberhausen, Germany
Saturday, October 21st @ Fabrique – Milan, Italy
Saturday, October 28th – Sunday, October 29th @ Wynwood Fear Factory 2017 – Miami, FL
Friday, November 17th @ Marquee – New York, NY
Wednesday, December 27th – Tuesday, January 2nd @ Pipa Reveillon – Tibau do Sul, Brazil
Tuesday, January 2nd @ P12 Parador Internacional – Florianópolis, Brazil
"UNCOVERED" TRACK LIST:
Intro
Unforgettable (w/ Marc Scibilia)
Shed A Light (w/ David Guetta & Cheat Codes)
Oh Child
Fools (feat. IRO) w/ Aalias
Like You Mean It (feat. Rhys)
OK (feat. James Blunt)
Naked (feat. Sam Martin)
Above The Clouds
Higher Ground
Love Me A Little
Tonight And Every Night
More Than A Friend (feat. Nico Santos)
I Believe I'm Fine (w/ HUGEL)Ha Leh Lou Ya (feat. Christy McDonald)
Sounds Easy (feat. Ruxley)
Un Sueño
Outro