Australian artist, composer and dancer Emily Perry first exploded into the music scene with her 2016 debut single SUGARCOATED.  The single was received with worldwide praise and it went on to reach number #40 on the Media Base Activator chart.
Her two follow-up singles BOOM and Walk in Silence went on to become Billboard hits, peaking at number nine and number thirteen respectively on the Billboard Dance Chart. Emily is currently touring the United States promoting her newest single Summer on Lock. The Summer on Lock Tour brought her to Chicago for a live performance at the House of Blues, the same weekend as Chicago Market Days.
During her tour stop in Chicago, Emily came by the Nexus Radio booth for a quick interview to talk about her newest single, her live performance on Good Day New York, her new music video, and to take the infamous Nexus Radio Take 5 Quiz. Here's what she said (scroll down for the audio version):
RONS: This is Ron for nexus radio, talking to the gorgeous, lovely and talented Emily Perry.
Emily Perry: Thank you so much for having me, Ron- so happy to be here!
RONS: Is this your first time in Chicago?
Emily Perry: Yes, this is my very first time in the windy city and I love it so far. And Market Days is incredible!
RONS: You're performing for the Circuit Mom (Chicago DJ and Promoter), if you had to choose- who would be your performance mom? Who would it be?
Emily Perry:  I'm not sure. I'm really excited to be with Circuit Mom and DJ Hector Fonseca. It's a performance that I never thought I'd be doing. And we're all so excited I've never performed with Hector even though he's done my last two records, so I can't wait.
RONS: Everyone is playing your song. The video is so amazing. What was it like filming yet?
Emily Perry: Thank you. Yeah, this video is definitely my favorite. I got to do a lot of dancing in it. I started from dancing, so it's obviously my favorite thing to do. And we put a lot into this video and I'm really happy with how it's going. It's getting a lot of reception. I premiered it on Good Day New York last week. So it's been going great since then.
RONS: Was that the Fox 5 thing?
Emily Perry: Yes, that was,
RONS: What was it like being on TV?
Emily Perry: It was amazing. I'm so grateful to Fox 5 and the Star Groomer (Cindy Valentine) and Rosanna everyone in New York for helping me with that because it was my first TV performance and it was an incredible experience and I'm so glad I got to do my newest single. But I did the remix by DJ Tony Gia actually. So that was a lot of fun.
RONS: Going back to your dance, I saw a picture on instagram of you holding a certificate that you graduated from….
Emily Perry: Yes, I actually graduated from a two year certificate IV (certification in dance), in Australia, two years full time dance. So I graduated from that about a year ago and then moved over to the U.S.
RONS: How long did it take for you to learn the choreography for the video?
Emily Perry: The video was choreographed by Brinn Nicole, which was, she's amazing. I think we had two rehearsals both four hours each and then we just filmed.
RONS: Well, you are now certified so you can pick up anything, are there any funny stories of the video filming that you could share with us?
Emily Perry: The video was fun. We did the whole thing in one day, and it was all in different locations. So we started in the desert, which was a bit intense. We were all sweating trying to keep that make-up on; it was a lot of fun. And if you've seen it, the beginning we're in a car and this car was amazing, super old fashioned. I loved it, but the car kept stalling and when you're driving through the desert, the wind makes you cry. So all of us dancers were just crying our make-up off, the makeup artist was like, please stop.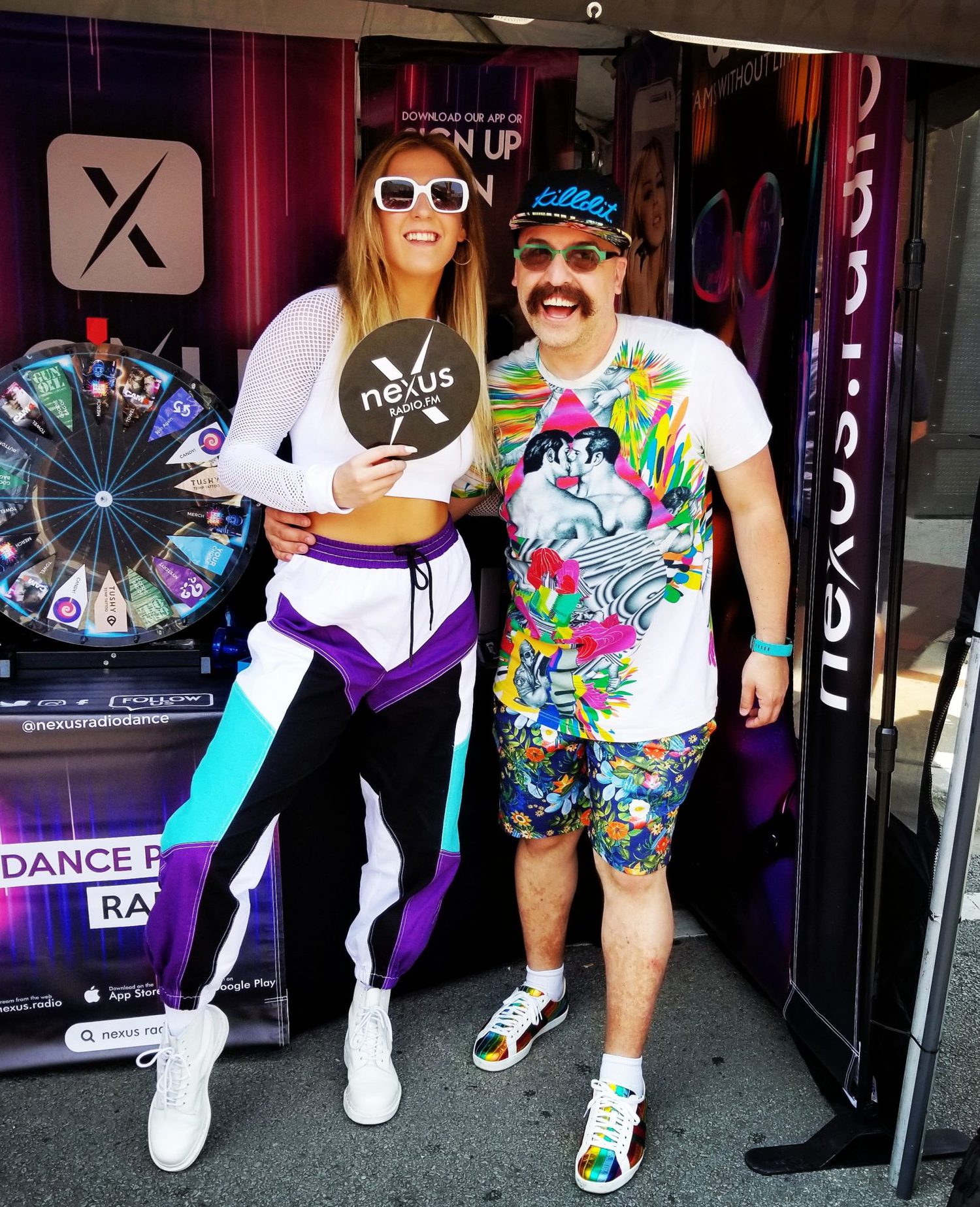 RONS: Let's get serious for a second. The song Walk in Silence. What's the story behind that song?
Emily Perry: So Walk in Silence, I wrote with Cindy Valentine and producer Joe Cruz. This was a really special one. It's probably at the moment my only slow mid-tempo song and the song Walk in Silence is pretty much about not walking in silence and really being heard and saying what you think before it's too late and I'm just so glad that it got the reception that it did in that everyone got to hear it.
RONS: I saw you got to meet Mike WiLL Made-It. If you were to collaborate with him, what would you do?
Emily Perry: I think if we got to collaborate, which would be amazing. We would definitely do something a bit more R&B, a bit more urban because obviously I'm a pop dance artist, but I love to go and all different lanes because I just love all music.
RONS: This is your first interview with Nexus Radio. Something we always do is Take 5, which is five fun, weird questions to really get to know you. So if there was one country or island that you could buy, which would it be?
Emily Perry: Probably like Santorini, Greece. Let's do that!
RONS: What advice would you give your 15 year old self?
Emily Perry: I think I tell her not to listen to other people's opinions because it just clogs your mind and you don't need that kind of negativity around you. You need people that are going to lift you up and support you.
RONS: I love that. I wish I could tell myself that every day. When you get married, who do you want to Dj your wedding?
Emily Perry: There's a remixer called DJ No breakfast. I feel like he's from the UK or something and I'm really obsessed with him.
RONS: You're going to be a superstar. We know that already. So when they make the Emily Perry perfume, what is it going to smell like?
Emily Perry: I feel like it's going to be like subtle and sexy. Not like fruity and annoying because that's like too much, like something subtle way, you know they're wearing perfume, but it's not in your face. Like you're going to have a coughing fit, you know? Yeah.
RONS: Who is your spirit animal?
Emily Perry: Like a sloth. They're really cuddly and "huggy." Not that I am, but I mean I just like them. I think they're funny. I'm funny. I don't know Ron.
RONS: Who is your favorite Australian Dj?
Emily Perry: Oh, Flume. There it is. There it is. That was stressful.
RONS: What's coming next from you?
Emily Perry: Well, I'm currently just finishing my Summer on Lock Club Tour, Las Vegas is my last date for that and I'm in Las Vegas next weekend. After that, I am doing a five week High School nation tour. So that's my second North American tour, which is very exciting. That's five weeks in a row and info on that will be coming very soon. So that's what's next for me.
RONS: If we want to follow you online, what's the best place to go?
Emily Perry: Yeah, so I'm on Instagram, facebook, twitter, under @theemilyperry.  My youtube is just Emily Perry, and my website is www.emilyperry.me.
RONS: And what would you like to say to all your friends and fans out there?
Emily Perry:  I just want to say thank you so much for supporting me because ultimately I wouldn't be where I am now if it wasn't for you and I have new music coming soon. So keep your eyes and ears open. And thank you so much from the bottom of my heart.
Click here to follow Emily Perry on Spotify!
Listen to the audio interview below ↓
Special thanks to Cindy Valentine – The Star Groomer for arranging this interview.