If dancefloor hits with a pumping base and catchy vocals are what makes you move, you probably still hold 'Moving on Up' by the British group M People dear to your heart even after all those years.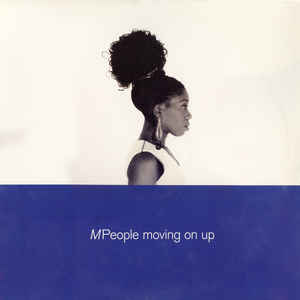 The early '90s were a formative period in the development of electronic dance music – while the production capacities were still maturing, the level of creativity in this period was simply through the roof. The iconic song 'Moving on Up' by M People exemplifies the period perfectly – it's loaded with unbridled optimism and oozes youthful energy, putting together a hypnotizing rhythm with an intense and infectious vocal performance. But, most importantly, it has that distinctive timeless quality that sets it apart from other works from this era and gives it a unique feel to this day.
M People were formed in 1990 by the Londoner Mike Pickering, who previously honed his DJing skills in the legendary The Hacienda club in Manchester. After joining the lead singer Heather Small, the band quickly assumed its place on the nascent dance music scene in the UK and Europe. Their first studio album was named 'Northern Soul .' It contained several singles that achieved considerable success. However, it was only with the release of the album 'Elegant Slumming' and the song 'Moving on Up' in 1993 that M People became a significant name in the genre. The band would release three more studio albums over the next couple of years, collecting a bunch of accolades in the process and cementing their status as pioneers of the EDM scene.
Of course, anyone clubbing hard in the golden age of techno and tech-house remembers 'Moving on Up' very well, as it was a club anthem that could be heard with regularity in various mixes and DJ sets. This funky tune indeed evokes some fantastic memories from the dance floor for a lot of old-school beat addicts, and its carefree attitude and defiant lyrics serve as a symbol of age more spontaneous and less overproduced than the modern music industry. Essentially a reminder of one's freedom of choice and bright future, the song still works great when you need a lift after a difficult day at work or when you want to pump up your friends' mood before you go out on a Friday night. In other words, its role may have changed, but its artistic value has not diminished.
At the peak of its popularity, the song entered the mainstream culture, appearing on numerous compilations and even finding its way onto soundtracks of big-budget movies. It was used for the hilarious comedy The Full Monty and the action-packed The Next Karate Kid, and even accompanied car reviews in the TV show Top Gear. By transcending its club roots, 'Moving on Up' became a cultural reference versatile enough to fit into almost any media and touch different audiences with its sheer emotional power and electrifying energy.
As the 21st century came along, M People stopped producing new music and faded into obscurity. However, 'Moving on Up' remains well-known among music fans of a particular generation. It is very representative of the neo-disco aesthetic of the '90s and famous for the simple but utterly immersive beat that aged very well. Today, our ears are accustomed to more refined sound production techniques, yet it feels refreshing to turn up the volume and enjoy the raw baseline that invites you to dance your heart out tonight and head into tomorrow with your chin up.