International Piano Day probably isn't something that you keep track of, but it happened last Wednesday, and John Legend knew it was coming. At St. Pancras station in London, there are a pair of station pianos maintained and provided by the station for use by the passengers and customers, but they played host to an impromptu concert by the 38-year-old ten-time Grammy Award winning singer.
At 5:43AM, Legend tweeted out: "Arriving at London @StPancrasInt on @EurostarUK. Do they still have that piano there?"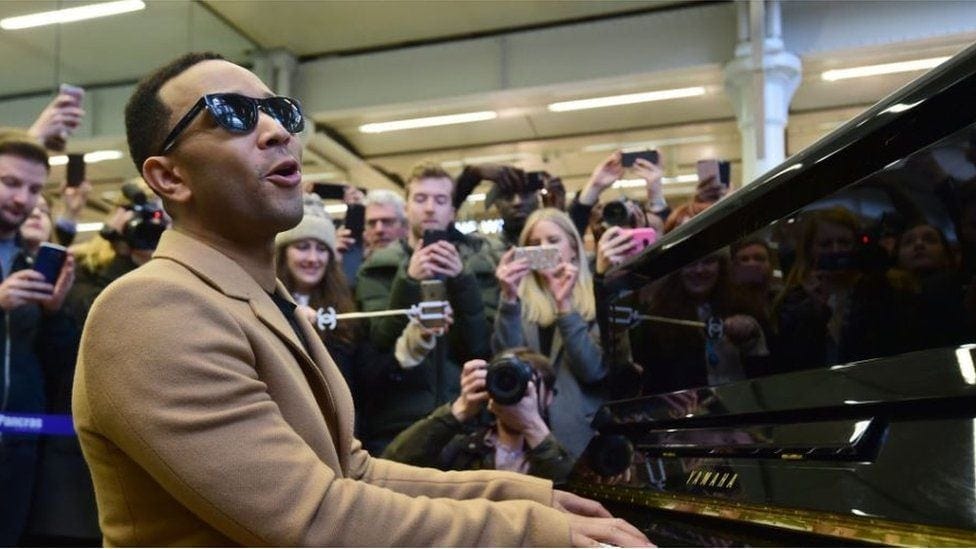 That set off a social media wave that summoned reporters, fans, and Legend's own PR team to the Eurostar arrivals gate. Any fans fast enough to make it to the station were treated to a medley of the singer's hits, including "Ordinary People", "All Of Me", and "Surefire", while Legend also promoted his new album, "Darkness And Light". There wasn't enough time for autographs though, as the American icon was spirited away by his PR team shortly after the makeshift concert ended. Given the crowd he'd managed to pull just twenty minutes after the initial tweet went out, that was probably a wise decision on their part.
As it is with all celebrity-related events these days though, it's hard to believe that the station itself wasn't in on the take from the get-go. Given that the official St. Pancras station Twitter tweeted out "It's International Piano Day! We can't wait to hear all the performances on our station pianos!" just an hour before Legend arrived, it's likely they knew what was up. On top of that, they've minted a new contest to give John Legend concert tickets away to two very lucky fans. It's unclear as to whether the station will host more celebrity musicians in the future, but the possibility will keep everyone vigilant for the next International Piano Day.