This week, we flashback to DJ Gigi D'Agostino's bombastic single "Bla Bla Bla," featured on the artist's second studio album L'Amour Toujours (1999) and boasting a quintessentially Italo-Dance production.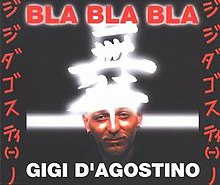 There's something ineffably Italian about "Bla Bla Bla", released through Arista Records and bursting onto the scene in 1999 as the third single off of Gigi D'Agostino's album L'Amour Toujours. This innate Mediterranean quality is perhaps unsurprising for an artist native to Turin whose music largely encapsulates the Italo-Dance style, an off-shoot of the Eurodance genre that took the continent by storm from the mid-eighties to the early aughts.
Comprised of two CDS—Chansons for the Heart and Beats for the Feet—Gigi's sophomore album L'Amour Toujours saw significant success throughout Europe, receiving a triple-platinum certification in Austria and breaking into the top 10 in Germany and the Netherlands. Bolstered by the release of singles "Another Way," "L'Amour Toujours (I'll Fly with You)" and "The Riddle" (a remake of Nik Kershaw's song of the same name), the album also reached number nine on the Billboard Dance Electronic Albums chart in 2001. It was followed up by L'Amour Toujours II in 2004.
Far from being Gigi's first success, "Bla Bla Bla" nonetheless represents the greenest artistic period for the DJ who, prior to the release of L'Amour Toujours had already received critical and commercial acclaim for his self-titled debut record. While Gigi D'Agostino put this Italian producer on the map, it was his work during the last years of the nineties—including tracks like "Gin Lemon", "Cuba Libre," "The Riddle" and "Bla Bla Bla"—which solidified the artist as a staple of the Italian house scene.
Featuring a bouncing drum machine beat and embracing a relatively minimalist mix, "Bla Bla Bla" is most recognizable for its lyrical content—or rather, a lack thereof. Described by the producer as an indictment of those who "talk and talk without saying anything," "Bla Bla Bla"s vocal layer is closer to pseudo-gibberish, mixing together yelled syllables and fragmented words pulled from Stretch's funk single "Why Did You Do It" and spinning them into a motif that emboldens the track's propulsive feeling.
Something about this choice to integrate vocals into "Bla Bla Bla"'s rhythmic foundation must have contributed to the single's commercial success, which broke into the top ten of Austria, Germany, and Belgium's dance charts. "Bla Bla Bla" also received a music video animated in the style of La Linea—an Italian cartoon created by Osvaldo Cavandoli featuring a character drawn as a single outline of an infinite line—which received significant play on broadcast television and which has amassed a staggering combined total of over 200 million views on YouTube.
Since the release of L'Amour Toujours and "Bla Bla Bla", Gigi D'Agostino has gone on to produce several hit singles, including "Super" (a collaboration with Italian DJ Albertino) in 2001 and "In My Mind" with Dyonoro, released in 2018. As a result, the producer continues to be regarded as an essential and influential figure in Italian Dance music.