System F, taken from a form of calculus, was the chosen moniker of
Dutch
DJ Ferry Corsten when he released
trance
classic 'Out of the Blue' in 1999. Ferry Corsten's career began in the early 1990s, his tracks fueling the gabber raves of the underground Netherlands scene. 'Out of the Blue' was a turning point in Corsten's career, pulling him away from the hardcore gabber movement and into
something
slightly more pop-orientated. Without 'Out of the Blue,' it is unlikely that Ferry Corsten would ever have made the transfer into melodic house music, for which he is well known today.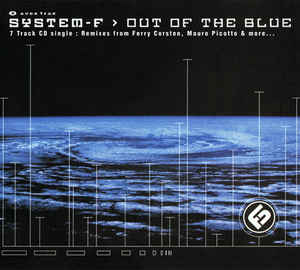 'Out of the Blue' hits harder than most
trance
tracks and has unique gabber influences. Muddy basslines and off-beat hi-hats run at a very high tempo and collide with pristine synths to create a track unlike anything else. The strange combination made 'Out of the Blue' a hit in underground and mainstream clubs alike.
'Out of the Blue' was not the first track where Ferry Corsten started to move away from his gabber roots, but it was his first
trance
track to achieve widespread acclaim. His remix of Albion's track 'Air' saw Corsten experimenting with trance. It was released in 1998 by Platipus Records, a trance label from the UK. Big names like John Digweed and Paul Oakenfold fell in love with the track, licensing it for use on one of their Global Underground compilations.
When 'Out of the Blue' was released, it far outshone the success of 'Air.' The track spent six months as just a promotional recording before finally being released in February 1999. Having only heard 'Out of Blue' in the clubs, fans lapped it up, propelling the track to massive sales worldwide. However, the biggest success of 'Out of the Blue' was securing a top-20 spot on the UK Singles Chart.