System F, taken from a form of calculus, was the chosen moniker of Dutch DJ Ferry Corsten when he released trance classic 'Out of the Blue' in 1999. Ferry Corsten's career began in the early 1990s, his tracks fueling the gabber raves of the underground Netherlands scene. 'Out of the Blue' was a turning point in Corsten's career, pulling him away from the hardcore gabber movement and into something slightly more pop-orientated. Without 'Out of the Blue,' it is unlikely that Ferry Corsten would ever have made the transfer into melodic house music, for which he is well known today.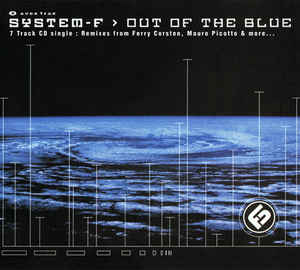 'Out of the Blue' hits harder than most trance tracks and has unique gabber influences. Muddy basslines and off-beat hi-hats run at a very high tempo and collide with pristine synths to create a track unlike anything else. The strange combination made 'Out of the Blue' a hit in underground and mainstream clubs alike.
'Out of the Blue' was not the first track where Ferry Corsten started to move away from his gabber roots, but it was his first trance track to achieve widespread acclaim. His remix of Albion's track 'Air' saw Corsten experimenting with trance. It was released in 1998 by Platipus Records, a trance label from the UK. Big names like John Digweed and Paul Oakenfold fell in love with the track, licensing it for use on one of their Global Underground compilations.
When 'Out of the Blue' was released, it far outshone the success of 'Air.' The track spent six months as just a promotional recording before finally being released in February 1999. Having only heard 'Out of Blue' in the clubs, fans lapped it up, propelling the track to massive sales worldwide. However, the biggest success of 'Out of the Blue' was securing a top-20 spot on the UK Singles Chart.
'Out of the Blue' was released on Ferry Corsten's label that he created alongside Robert Smit in 1997. Tsunami was created in partnership with Purple Eye Entertainment, a Dutch dance company providing expertise and investment to the most exciting movements in Dutch dance music.
The popularity of 'Out of the Blue' guaranteed future success for Ferry Corsten and the Tsunami label. Tsunami quickly followed up on 'Out of the Blue' with 'Gouryella' and 'Walhalla.' These two tracks were collaborations between Gouryella and Ferry Corsten, keeping firmly to the signature aggressive gabber influence that came to characterize Tsunami. Music fans loved this signature sound, and both tracks charted in the UK and achieved Gold certification.
Success bred more success for Ferry Corsten, who was asked to remix tracks by some of dance music's most immense talents, including Moby and Faithless. The remixes were even better than Corsten's original work, with his remix of Orbit's version of 'Adagio for Strings' winning Best Remix of the Year at the 2000 Dancestar awards.
Ferry has branched out even further than trance music in recent years. He could hardly have moved further from it in his 2020 ambient album 'As Above, So Below. He has not turned his back on trance, though, with his main 2021 release being a buzzing remix of DT8 Project's 'Hold Me Till The End.' Be sure to keep up with Corsten's latest trance bangers by tuning into Nexus Radio.