Noah Cyrus Interview.
Nashville-based singer, songwriter and actress Noah Cyrus needs no introduction. Born on January 8th of the year 2000, she's the daughter of Country Music Superstar Billy Ray Cyrus, and younger sister to mega pop star Miley Cyrus.
In 2017, she was named one of the most influential teens by TIME Magazine.
Noah has worked with many great Dance Music producers like One Bit, Alan Walker, Matoma, and Marshmello to name only a few. So we sat down with her to talk about her experience working in the EDM world, her fiery new EP "Good Cry," and of course, her little Chihuahua "Ellie."
Ron: What's your dog's name?
Noah Cyrus: Ellie! Her name is Ellie. She came with the name Ellie, and now I just say that it's after Ellie Goulding. She's a little Chihuahua and we always joke, I don't know what you can say on here, but we always joke that she's like the cocaine dog because she just seems to be on it all the time. If you could imagine a Chihuahua on just mounds of cocaine, that's my dog!
The Good Cry.
Noah Cyrus released her debut EP "Good Cry" back in September of 2018. She describes the process as very emotional for her.
Ron: So, let me ask you this. When was the last time you had a good cry?
Noah Cyrus: I cried just a couple of days ago. I don't know if it was a good one. But I cry sometimes when I'm in my hotel room alone. There was a point where I was just like, I miss my dog really bad and my mom texted me that she loved me and missed me and she gave me the like, 'I miss you baby girl. I just want you to know I love you so much.' And I just kind of broke down because when you're out here it's nice because, you know, Maddie is like family, and Zach and everybody on my team is like family, but I miss my dog and I miss my mom a lot, she's like my best friend.
Rons: Pop Music is often called artificial, but listening to your album, it was so real and so emotional. What inspired you to open up to your fans so much?
Noah Cyrus: For example, like 'Punches' was a really hard day in the relationship that I was in for two years, and that was the first time that I'd ever broken down in front of a writer and producer. Joe Janiak, I'll never forget, Joe and Jenna were just sitting there holding me because I was just sobbing, and Joe and I just really connected on this level and wrote down this song. It wasn't just on purpose, I was in this relationship for two years and I've been writing about it since it began, and none of it changed. And it took two years for me to realize that you know, for us to mutually agree that it was time for us to move on, and now I have an album to write about that, and that's great! But I went through two years that were really heavy and I just ended up writing these songs not knowing they were all gonna go together. I wrote "Good Cry" and that was kind of the final piece of the puzzle. Then I wrote 'Topanga' a week before the Ep came out and that was just an accident. It was a voice memo on my friend's phone, and I ended up loving the voice memo so much. I was like, I want to put it on the EP.
EDM Records With Meaning.
Ron: So, you worked with One Bit, you worked with Marshmello and Alan Walker and you worked with all these great dance producers. What experiences or lessons did you take from them to work on your solo project?
Noah Cyrus: I think we just created good friendships overall, I went on a three-week tour with Alan in Europe and I just went out and sang "All Falls Down" every night and it was so much fun. It's cool because I got to learn about the DJ side of things. But it's always fun working with that side of music, the EDM genre. Because it's so different, especially when you get to make a record with emotion in it; "Slow" is such an emotional record and that's Matoma's record and I love how emotional that song is and I relate to that song and it's cool because I have a lot of songs that I haven't put out yet that I want to pitch to a lot of EDM people. These are all personal records, and it'd be cool if we turned them into club records. That's why I love the song "Headlights." If you remember that song with the IIsey (Juber), she sings it. She's the one who I wrote "Almost Famous," and "Topanga" with and she just performed with me in New York, She's amazing! But I love "Headlights" because it's an EDM record with a meaning and that's what I love about doing EDM records. You can deliver an EDM record with meaning.
Her Boss Ass Bitch Song.
Ron: So, when you sing "My Way," what's going on in your headspace?
Noah Cyrus: Like, why am I not getting what I want bitch! Like, I'm the princess! and that's how I am in the music video. The whole music video is me as like a little princess and you know what? I really felt that song because I felt that with my music, I wasn't getting my way for the longest time and now I'm getting my way. I am who I want to be. I was in a relationship with somebody that didn't like who I was as a person, and you know what? That's fine. We're not meant to be together and I realized that "My Way" is my "boss ass bitch song." I feel like Beyonce when I sing my way. I feel like [putting] my heels on even though I'm always wearing sneakers because I'm a "sneakerhead." I just feel like a boss ass bitch when I sing "My Way."
Ron: Cool kicks! those Nikes?
Noah Cyrus: Yes. Nike is my favorite shoe brand on the planet!
Ron: Awesome! Awesome.
Noah Cyrus: Sorry Adidas. I like you too though! and everybody else… they can be friends.
Ron: Speaking about meaning, your fans love you so much.
Noah Cyrus: and I love them so much.
Her Team and Her Fans
Ron: What do you love most about your fans?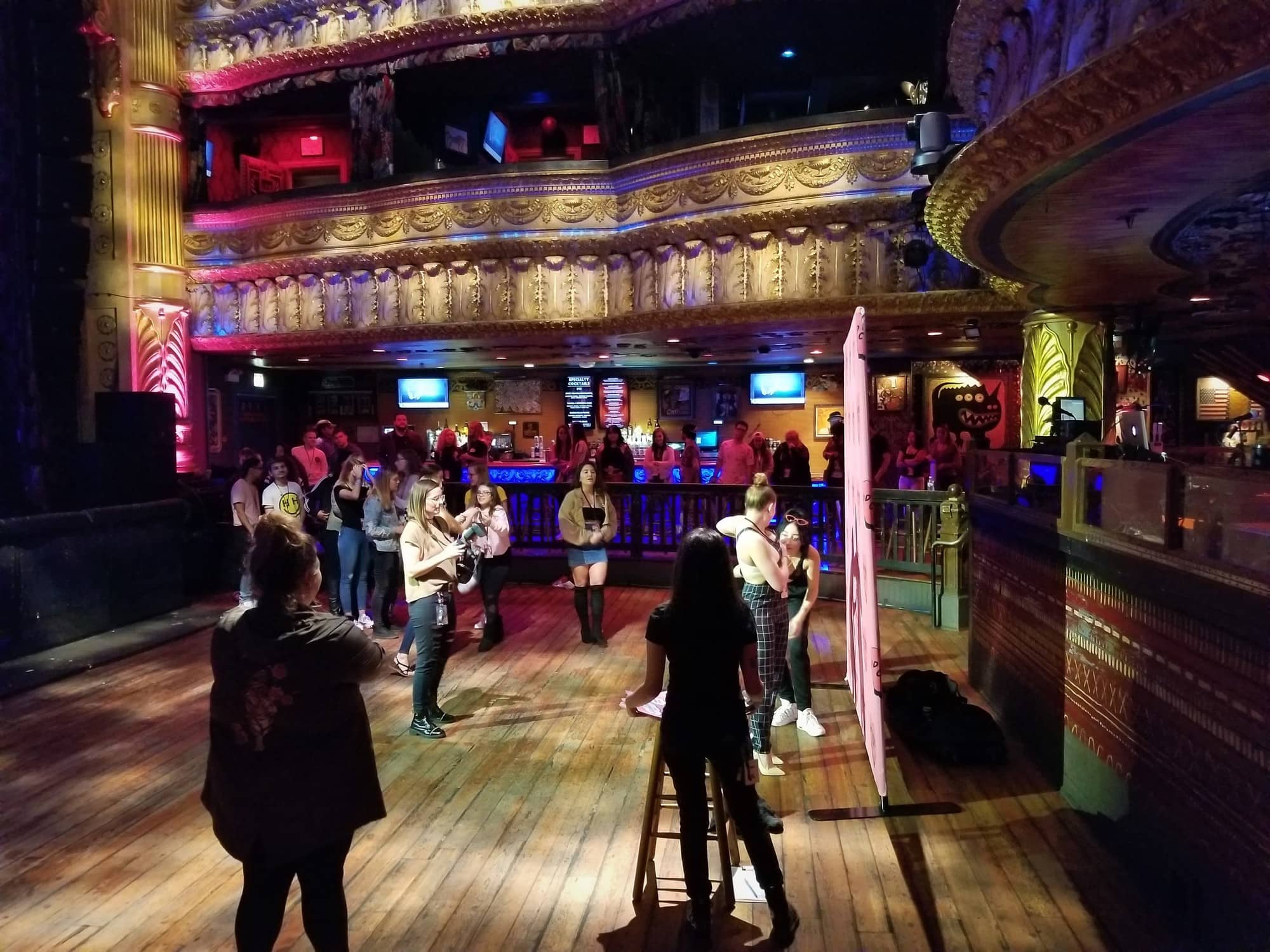 Noah Cyrus: We started out as friends like when I was a kid I would go on Twitter and we would become like Twitter friends and we would DM (Direct Message) each other. I feel like I have a special relationship with them because they've literally watched me grow up. Like if their parents were my dad's fans and they were growing up looking at…. I don't know, it's just a really cool relationship that I have with my fans. We've always just been family.
Ron: I saw the line of fans out there for meet and greets. What's the coolest gift you've been given by a fan?
Noah Cyrus: My favorite is just when they bring me a good old bag of Chili-Cheese Fritos. I swear!
Ron: I Love that! Okay, you made such a good team with singer MAX. How did the two of you meet?
Noah Cyrus: We met at radio shows a couple of years ago. We just met at a radio show. I've always loved his music. I've always loved Max. I've always loved his sense of fashion and he's such a cool kid, or not a kid but you know, he's such a cool cat and I love him. And I ended up just hitting him up and was like "Yo, get on 'Team' your voice is too beautiful to not be on this song!" I wrote it for my boyfriend at the time because we were going through some stuff, and I still wanted to work it out, as us women do, but you know, whatever.
Ron: Have you seen the movie "A Star is Born" yet?
Noah Cyrus: Not yet. I haven't had time to go to the movies yet, but for all my fans listening. You guys know I love Gaga, so I want to go see it immediately.
The Puffer Fish Cup.
Ron: A few more things. That selfie you took with the Beatles. That's sickening.
Noah Cyrus: Was that not the best!? So, there's a story behind this! Maddie wakes up around noon. Maddie and I share rooms at hotels, we're best friends. I wake up around 2:30 PM, it's about 2:30 and Maddie's tapping me on the shoulder saying, "Noah, I want to go to this restaurant, look at these fish cups." And I'm like "What the fk is a fish cup!?" And I look and they're selling, they are not selling, they give you your drink in these glasses that are shaped like a puffer fish. So, Maddie and I were checked out of our hotel room, it's checkout time and we have nowhere to go. So, we're like, fine- let's walk to this f*ng place and they're not even open. Only their pizzeria is open, so Maddie convinces the hotel-casino place to sell her this fish cup, this puffer fish cup. And on our way to the puffer fish cup place was that wall of the Beatles. And then my friend who was on Facetime with me and we just thought it was funny when you see it and you zoom in, you see my friend on facetime, but yeah.
Ron: If you could cover any Beatles songs, which one would it be?
Noah Cyrus: Well, "Hey Jude" was the first song I learned on piano, so I would probably go to cover "Hey Jude," even though that's like a typical cover, but … my teacher back in school, when I was in second grade, he started teaching me piano and "Hey Jude" was the first song that I learned.
Chicken Nuggets, a Frosty and Fries with Ranch.
Ron: Now it's time to play "TAKE 5".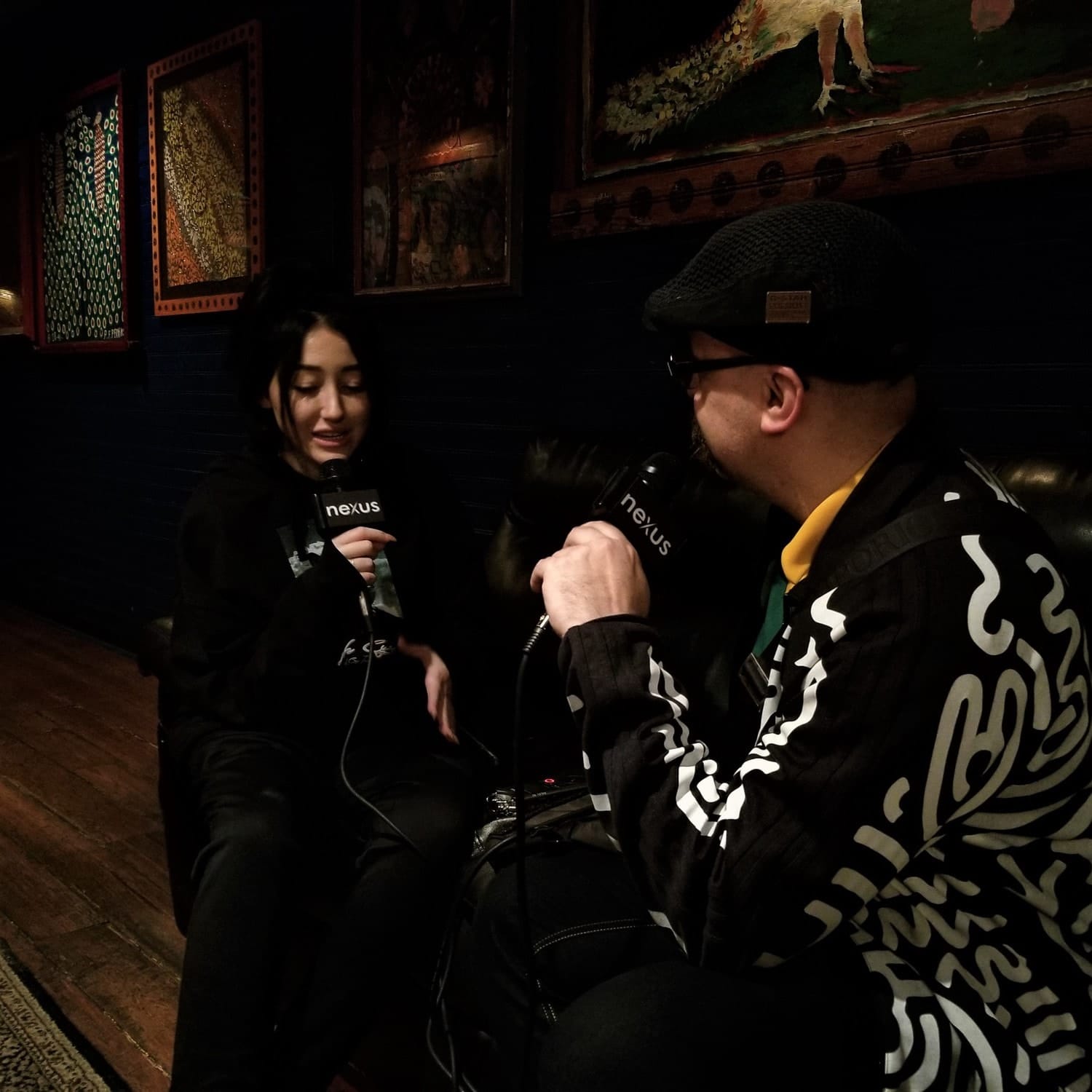 Noah Cyrus: I'm down.
Ron: These are five questions to really get to know you better. We know you don't drink coffee. So what drink do you start your morning with?
Noah Cyrus: What drink do I start my morning with? Water. I just drink and tea.
Ron: What's your favorite thing to order at Wendy's?
Noah Cyrus: Chicken nuggets, a Chocolate Frosty and French Fries…. with Ranch.
Ron: Of course Ranch.
Noah Cyrus: Yes.
Ron: What will the Noah Cyrus perfume smell like?
Noah Cyrus: Oooo, Chicken nuggets! …that'd be so gross! No, to be honest, I have never really been a perfume person, but my friend did get me the Ariana Grande perfume when it was my 16th birthday so that's my favorite smell. Oooh! just kidding, I'm selling candles as my merch with my face on it, like Jesus Saint candles; Christmas cookie scented candles! We couldn't get them scented on time for the tour. So, my perfume is going to be Christmas cookie scented candle from cracker barrel.
To learn what Noah Cyrus thinks has been the biggest change in Nashville in the last five years, her favorite remix of one of her own songs and more, listen to the full audio interview below!
The Audio Interview.