Northalsted Market Days®, the renowned LGBTQ+ event held in Chicago's vibrant Northalsted community, has announced its star-studded lineup for this year's festivities. Set to take place on August 12th and 13th, the event promises a thrilling experience with an array of top headliners.
Among the notable performers gracing the Market Days stages are Betty Who, Shea Couleé, Pussy Riot, DRAMA, CupcakKe, and Kylie Sonique Love. These sensational artists are sure to captivate audiences with their incredible talents and unique styles. Joining them are Crystal Waters, Boyfriend, KC Ortiz, Sofi Vonn, and many more, ensuring a diverse and exciting lineup for attendees to enjoy.
The festival features five stages, each offering a distinct atmosphere and showcasing a variety of performances. The NÜTRL Vodka mainstage at Addison promises to be a highlight of the event, while The New Orleans Stage at Belmont shines a spotlight on Chicago drag performers and curated queer artists, curated by Peach Presents and Back Lot Bash. Dance enthusiasts can groove to their favorite beats at the ViiV Healthcare Hydrate Stage at Cornelia, featuring renowned DJs such as Danny Verde, Jesus Montanez, and Joe Pacheco. The Nissan Partners of Progress Stage at Roscoe will showcase local favorites, including Sixteen Candles, Rod Tuffcurls and the Bench Press, Too Much Molly, iPop, and Hello Weekend.
In addition to the impressive lineup, attendees can look forward to nostalgic tribute bands paying homage to beloved artists such as ABBA, Amy Winehouse, and a Queen & Lady Gaga mashup duo called Radio Gaga. The event will also feature dance exhibitions, performances by the Chicago Gay Men's Chorus, and over 200 merchandise and food vendors, offering a delightful array of options for festivalgoers to explore.
Northalsted Market Days has become a significant event on the LGBTQ+ calendar, attracting upwards of 100,000 attendees each year. Celebrating the rich culture, community, and life of the LGBTQ+ population, the festival holds a special place in the hearts of locals and visitors alike. Organized by the Northalsted Business Alliance chamber of commerce, the event serves as a platform to showcase the energy and spirit of the Northalsted community.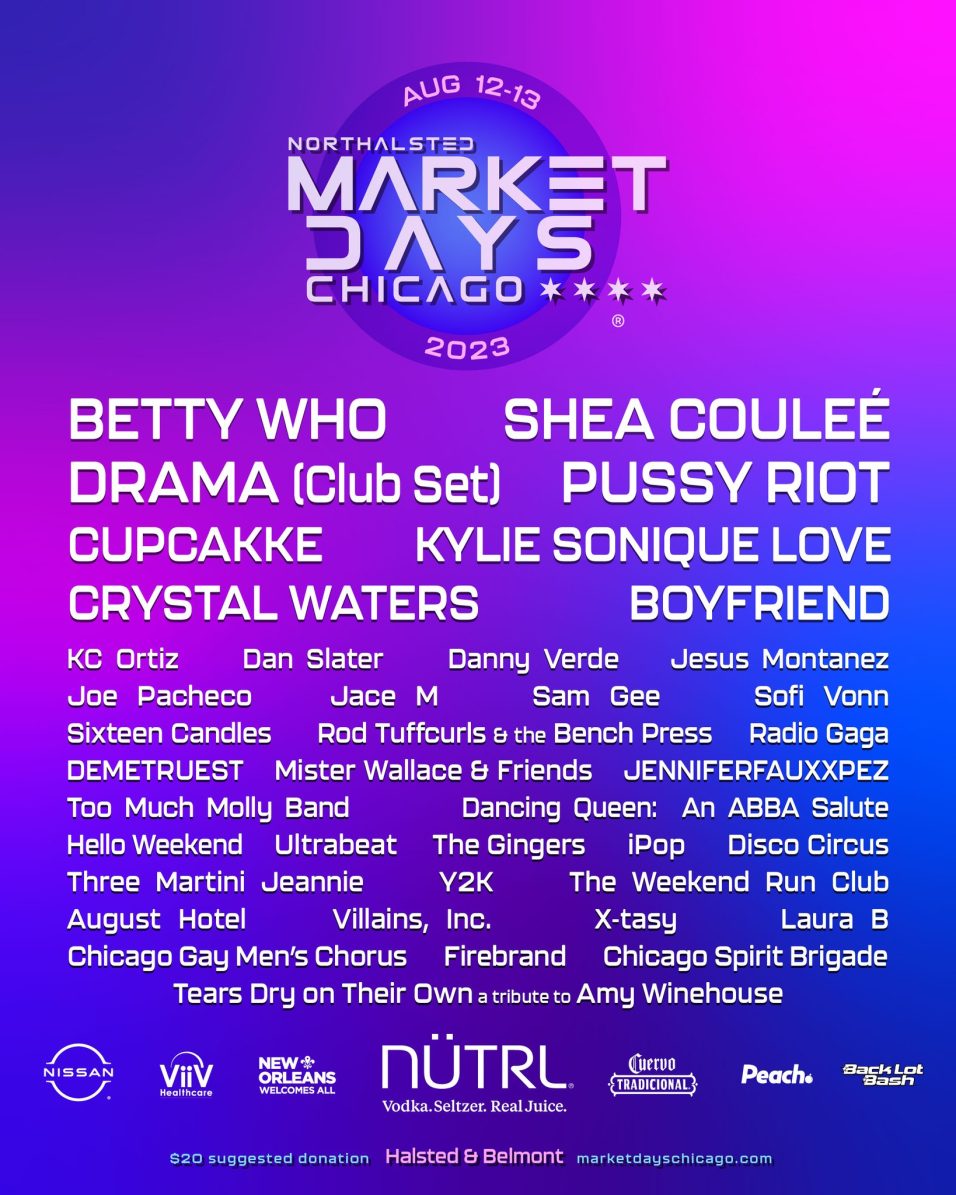 Mark Liberson, Vice-President of Northalsted and the lead event organizer, is eagerly anticipating the 41st anniversary of Northalsted Market Days. He expresses his excitement, stating, "Market Days has the irresistible energy and colorful spirit of the Northalsted community that keeps people coming back every year from all over the world."
To support the performers, event workers, and community programs, a suggested donation of $20 is encouraged at the entry. The generous contributions from the public have also made it possible to create and maintain the Chicago Pride Crosswalks, an iconic installation comprising 14 rainbow-paved intersections, the longest of its kind in the world. These initiatives, along with DEI training programs, are supported by Northalsted, reflecting the event's commitment to fostering inclusivity and diversity.
As August approaches, anticipation for Northalsted Market Days continues to build. With its impressive lineup, vibrant atmosphere, and celebration of LGBTQ+ culture, this year's event promises to be a memorable and inspiring experience for all who attend.