In the world of music, there is always one song that triggers a memory from our past. It doesn't matter if it's rock, pop, or reggae; one tune and it all recalls a specific period in our lives. So in this week's Flashback, we'll be looking at a track that shaped the summer of 2000 and has since become a trance classic.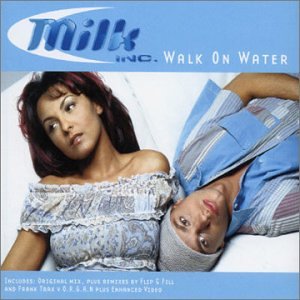 "Walk On Water" has long been the most popular
Milk Inc.
track. The wonder remains, however, as to how it struck such a chord and lingered through time. Way back then, it has reached #1 in Spain and Belgium
charts
and #10 in the United Kingdom. It has also won Best National Single at the TMF Awards in Belgium and Best International Single at the Hitkrant The Netherlands. Today, it still has the power to pull us back to the days and conquer the hearts of many.
Undoubtedly, Milk Inc.'s breakthrough came after this hit single. The vocals are without a doubt, and it is a passionate love song that is unlikely to go unnoticed. The electronics shift from being stripped down and sparse to deep and sumptuous, punchy hook lines and catchy lyrics, ultimately completing the beauty of the mix. It has a pretty straightforward message and an upbeat rhythm that will leave you with a Last Song Syndrome. Finally, a track that will make you want to listen to more
music
Milk Inc has to offer.
Milk Inc.
is a Belgian dance band earlier composed of Ann Vervoort as the lead vocalist, Regi Penxten, and Filip Vandueren. The group tried out numerous genres like death metal, punk, and opera, but their
music
didn't work out. However, their song La Vache, which reached #21 in the UK in 1997 (despite being overlooked in their home country of Belgium), was the catalyst for everything that followed. Their hits "In My Eyes" and "Promise" climbed the Belgian charts, quickly reaching #2 and #3, respectively. In 2000, Ann Vervoort quit Milk Inc. to create her own record company, and Linda Mertens took her place.
Linda was the one singing in the official
music
video for "Walk On Water." She takes us on a sea excursion, dancing her way through a boat party with friends. The slow-motion effect conveys the liberating mood while dancing, as the rhythm makes your pulse race faster. The video is simple but striking, with a blue color scheme that emphasizes the natural beauty of the aquatic theme.
With Linda Mertens at the lead, the ensemble became one of Belgium's most popular live acts and best-selling musicians in the
Eurodance
and trance scene. Topping
charts
and winning awards, their ascent to success seemed unstoppable. Not until the band went on hiatus in 2014 for an unknown amount of time. Until now, there's been no certainty that this band will release another gem.
Although Regi Penxten still works as a DJ and record
producer
in Belgium, the rest of Milk Inc.'s members may have settled down for good. Nevertheless, "Walk on Water" is still a splendid trance-pop song created by them.
Milk Inc.
maintained a much lighter and more enjoyable vibe. For most, this is how trance should be – receptive, carefree, and uncomplicated.