This week, we flashback to French DJ and producer Bob Sinclar's 2005 feel-good hit "Love Generation," a track that defined the music scene during the mid-aughts and which has it's core a timeless symbol of unity and community.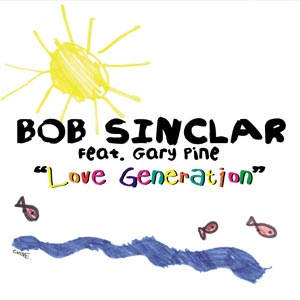 Featuring vocals from Gary Pine, "Love Generation" is a lively and upbeat dance tune with an infectious chorus still recognizable today. The track was a part of Bob Sinclar's fourth studio album, "Western Dream," released in 2006. The album was a departure from Sinclar's earlier work, which was heavily influenced by French house and disco. Instead, "Western Dream" featured a fusion of various styles, including funk, soul, and reggae, with "Love Generation" serving as the album's lead single.
The track's lyrics are simple yet catchy, with Pine's smooth and soulful voice singing about the power of love and the need for positivity and unity in the world: "I've got so much love in my heart / No one can tear it apart / Feel the love generation / Come on / Feel the love generation." The song's message is reflected in its music video, which features people from different backgrounds coming together to dance and celebrate life.
However, what makes "Love Generation" stand out is its infectious melody and lively instrumentation. The track opens with a simple guitar riff before building up with a driving beat and catchy horn section. Pine's vocals soar over the music, inviting listeners to join in and sing to the uplifting chorus.
The single's success was immediate, topping charts across Europe and reaching the top 10 in several countries, including the UK, Australia, and Canada. In the US, "Love Generation" peaked at number 98 on the Billboard Hot 100 but became a hit on the dance charts, earning Sinclar a nomination for Best Dance Recording at the 2007 Grammy Awards.
Beyond its commercial success, "Love Generation" also had a significant cultural impact. The track's message of love and unity resonated with audiences worldwide, making it an anthem for the peace and love movement gaining momentum in the mid-2000s. The song has been featured in numerous films, TV shows, and commercials, further cementing its place in pop culture.
Since the release of "Love Generation," Bob Sinclar has continued to produce and release music, with several of his tracks becoming dancefloor hits. His unique blend of styles and infectious beats have earned him a devoted fanbase, and he remains a prominent figure in the dance music scene.
Overall, "Love Generation" is a timeless classic that continues to bring joy and positivity to listeners worldwide. Its catchy melody, uplifting message, and lively instrumentation make it an essential addition to any dance playlist and a testament to the power of music to unite and inspire people.
To hear this track and more from Bob Sinclar, including his earlier house material, make sure to tune in to Nexus Radio.