In a year when pop music was blossoming, Safri Duo's Played-A-Live (The Bongo Song) introduced the first hints of electro music with a touch of tribal rhythms. Released in 2000 as the lead single from their first mainstream studio album, Episode II, it sold 1.5 million copies worldwide and became Europe's fourth-fastest-selling single ever. This music is ageless, created on stage with all possible sounds that might go on forever. Then, finally, a track to remind us that we can dance to the beat of the drums for a primal human vibe!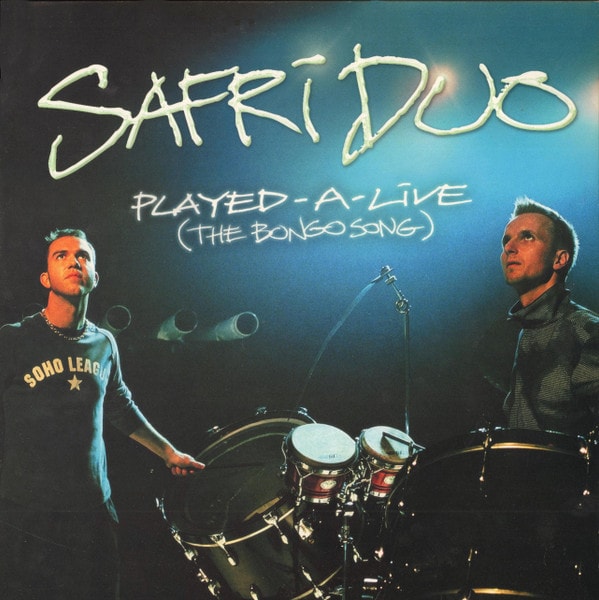 Uffe Savery (born 5 April 1966) and Morten Friis (born 21 August 1968) formed the Safri Duo, a Danish electronic percussion duo. They met in 1977 while attending the Tivoli Garden Boys' Guard. While studying at the Royal Danish Conservatory of Music, they began the Safri Duo, an experimental duo named after the first letters of their surnames. They were initially classic-oriented but later shifted to tribal and modern electronica elements. Safri Duo became the most internationally successful Danish act since Aqua after the single and accompanying album, Episode II, sold one million copies worldwide.
Savery and Friis previously recorded and released several albums for Chandos Records. They performed works by famous classical (a.o. Bach, Mendelssohn, Ravel) and contemporary (a.o. Reich, Nrgrd, Ter Veldhuis) composers. Fellow percussionists and other artists connected to the world of classical music commonly refer to their performances of Ter Veldhuis' Goldrush, Ravel's Alborada del Gracioso, and Anders Koppel's Toccata for vibraphone and marimba as small milestones.
In 1999, Michael Parsberg, a music label producer, discovered the duo. Following their signing, he planned to release a tune in 2000 that combined tribal sounds with modern electronica. The outcome was the hugely successful "Played-a-live (The Bongo Song)," which became one of Europe's most popular songs that year. Safri Duo's moody song has a tempo of 138 BPM. In addition, it has a high energy level with a four-beat per bar time signature, making it incredibly danceable.
The combination of tribal drumming and trance was a hit, and it was featured extensively in the opening ceremony of the Sydney 2000 Summer Olympics. As a result, Safri Duo performed alongside Danish pop group Aqua at the Eurovision Song Contest 2001 in Copenhagen's intermission. In addition, "The Bongo Song" was a highlight of the 2002 Commonwealth Games in Manchester, England, and the FIFA Football 2003 soundtrack.
The record reached number one in the Danish Singles Chart and the Swiss Singles Chart. It also attained number two in the Netherlands, Germany, and Belgium (Flanders and Wallonia). In addition, it charted at number six in the United Kingdom and number seven in the United States on Billboard's Hot Dance Club Songs chart. "Played-Alive (The Bongo Song)" won "Danish Club Hit of the Year" at the 2001 Danish Music Awards. The song is also one of the themes for the Kingda Ka coaster at Six Flags Great Adventure.
The Bongo Song illustrates that music, with or without lyrics, can make you dance with pure rhythm and passion. "Blown away" is a perfect way to describe how our souls felt when the mix of Latin drumming and Eurogated synths pounded into our ears. The tremendous sound that these two formats produce is nearly unimaginable. The mild breakdowns contrast with the euphoric buildups, resulting in a whole greater than its parts. The sensation starts at your feet and gradually but noticeably creeps up your body till the pins and needles infiltrate your hairs' end. There are no vocals here, yet the spirit doesn't need to communicate verbally