In this week's Flashback, prepare to travel back in time with us as we turn the clock 17 years into the past to revisit the emotions sparked by September's "Cry for You!"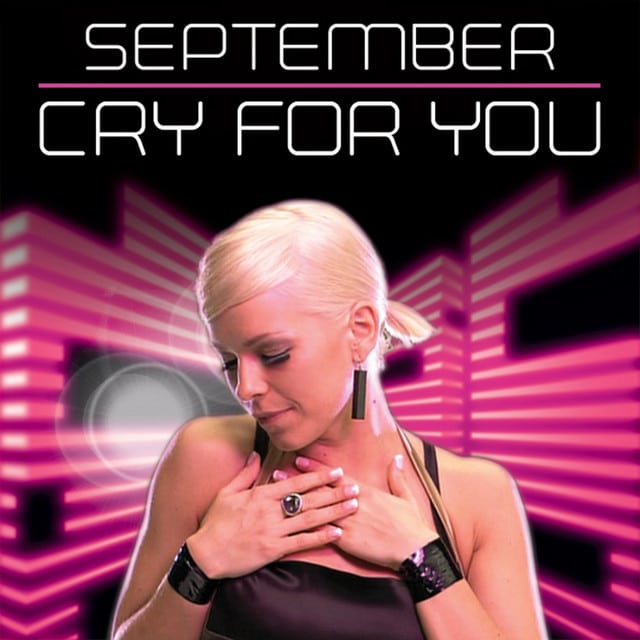 Swedish singer Petra Marklund, singing under the stage name September, released a single from her second studio album, In Orbit (2005), titled "Cry for You," also known as "Cry for You (You'll Never See Me Again)" on Hard2Beat. It was the album's third and final single release in Sweden, arriving in stores in November 2006. On top of being released as a single in Europe, this version also appears as a bonus track on her third studio album, Dancing Shoes (2007).
"Cry for You" has been September's biggest hit to date, together with her single "Satellites," topping the top ten charts in twelve countries, such as Sweden, Ireland, and the United Kingdom. After spending three weeks atop Billboard's Hot Dance Airplay Chart in May 2007, the song was September's first and only debut on the Billboard Hot 100, where it peaked at number 74 in 2008.
The Recording Industry Association of America (RIAA) certified September's "Cry for You" Gold in November 2010 for sales of over 500,000 copies, making her the first Swedish act to gain a Gold certification in the United States since Ace of Base got it for their song "Cruel Summer" in 1999.
Additionally, in 2007, September prepared a global reissue of "Cry For You." She said, "The song was so strong by itself," in response to why she decided to re-release it. "It feels like the fans are starved of dance music. But now dance music is coming back again, and the world is getting smaller and smaller because of the internet – that now sometimes you don't even have to do much promotion, although obviously, it is still very important. But I think that a hit song will always find a way."
Petra Marklund's notable career would not come as a surprise once you discover the artist's background. Using the stage name September, she entered the music industry at the tender age of twelve. In 2003, she released the single "La La La (Never Give It Up)," which catapulted her into the spotlight, and in 2004, she released her debut self-titled studio album.
The song "Cry For You" was co-written by Anoo Bhagavan, Jonas von der Berg, and Niclas von der Berg. Comparisons to "Smalltown Boy" by Bronski Beat and "Tell Me Why" by Supermode have been made, although any such resemblances were said to be coincidental. Lyrically focused on moving on from a failed relationship, "Cry for You" features a dance-pop and Euro-pop sound that will surely get your body moving!
Nearly 12 years after its first release, "Cry for You" began to attract new attention in late 2018 after it was featured in a meme format on Twitter. The meme features a snippet of the chorus from the song, in which Marklund sings, "You'll never see me again," alongside remarks that apply the line to things like misplaced socks.
For a young Swedish musician, Petra Marklund's breakthrough with "Cry For You" on a global scale was unparalleled. She persisted in her singing career, which brought her success internationally and in her own country. So turn up the volume and get ready to be taken back to the frantic, pulsating dance scene of the early 2000s with September's "Cry For You."