It seems that producing dance music is becoming a family event! Steve Aoki recently teased his new single, "Moshi Moshi," which drops on Friday and will  contain a special treat: vocals from Mama Aoki!
Aoki's mom, Chizuru Kobayashi, is almost too cute in the teaser video posted on the DJ's social media. "Hello everybody!" she says with a wave. "I'm Mama Aoki. My new song 'Moshi Moshi' is coming this Friday! Don't forget!" She chides viewers with a playful wave of her finger, as if they were her own children and she was reminding them that dinner was in an hour. Watch for yourself below:
My moms first single on @dimmak dropping this Friday!!!! Last release on the #5OKi Series!!! @vinivicimusic pic.twitter.com/RdfZvnNQtc

— Azukita Aoki (@steveaoki) April 16, 2018
Billboard speculates that the track, which is a collaboration with psy-trance duo Vini Vici, will be "a wild ride, and one helluva family affair."
Kobayashi seems to be one proud and supportive mama: in addition to providing vocals on his latest song, she also joined her son at the unveiling of his wax figure at Madame Tussauds Las Vegas. She was right there beside him, pretending to DJ along with him at the event.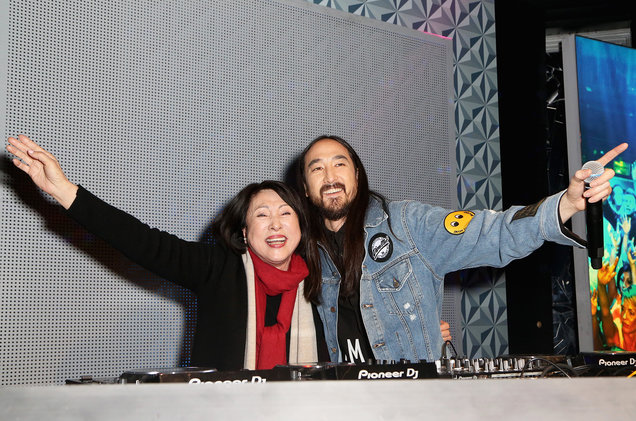 With all the amazing help she's giving him, we hope that Steve gets her a really great Mother's Day gift this year!