Tritonal, the duo of Chad Cisneros and David Reed, arrived in Miami and hit the ground running – playing Nikki Beach and Eleven within the first day.  It's been "wham bam thank you ma'am" for them, but we have to wonder where they get they energy from.  "We work out when we can, sleep when we can,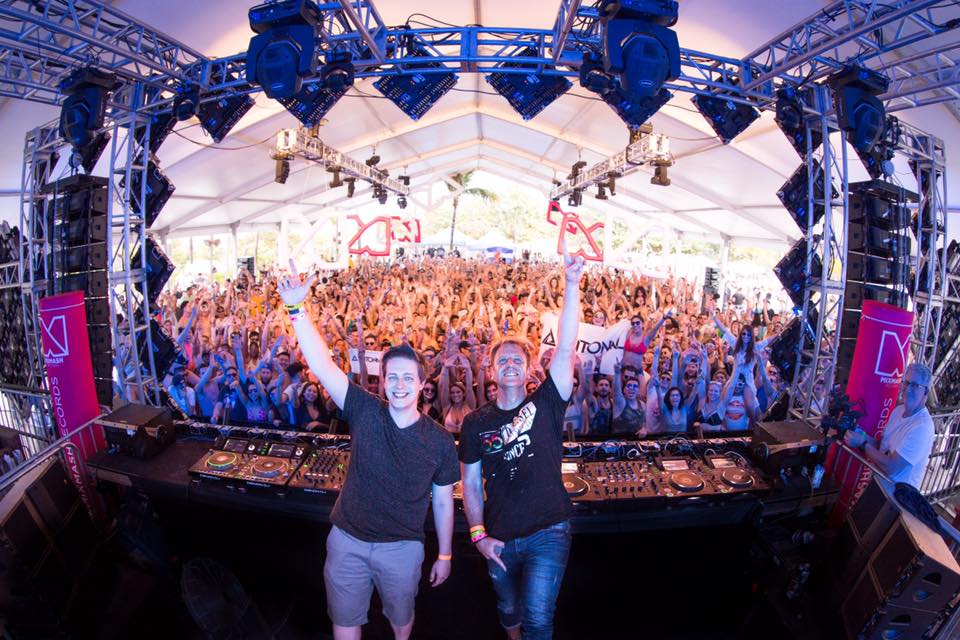 meditate, and eat healthy – try to take care of ourselves."   They also avoid the "crazy sports drinks" because of all the sugar and carcinogens.
Though when they indulge, David likes an Old Fashioned, while Chad reaches for a Spider Bite (a special from Austin favorite Spider House that spikes its inhouse blend with espresso shots) or a cold brew.  Actually, they both like their coffee.  In the studio they sometimes get so wired that they "have to get up and walk around because the chairs feel like prisons." It could also be because they've had the same studio chairs for seven years, which they describe as the most "ghettoest."  Note to furniture companies, here's your chance for the ultimate DJ/producer endorsement.
When asked what decade they would go back to in a time machine, Tritonal were insistent on exploring the future.  "There's no such thing as time, it's all relative, so I would go forward" because I "hear some sh*t goes down in 3019."  David also felt that if he went back, he would be wasting his life because "there's nothing back there."
We heartily disagree with that, because last year Tritonal dropped their epic album 'Painting With Dreams," exploring a wide range of sonic textures.  They stayed true to their ethos of not "staying in one sound for too long."  Kicking off 2017 with the radio hit "Strangers," their Dream Academy-sampling "Hey Mamama" quickly became one of the biggest records of Miami Music Week.  While they are excited about their remixes of Chainsmokers featuring Coldplay and Zedd, they are most excited about all the songs that aren't finished.  As producers, we are "always trying to create the next awesome song."