Felicia Punzo has always wanted to be a superstar.  The Philadelphia native has acted in numerous musicals including Annie, The Wizard of Oz, Bye Bye Birdie, and the Music Man.  She was also involved in three KIA TV commercials, and was cast as an extra in the 2009 motion picture Standing Ovation.
In 2009, Punzo worked with Grammy award-winning producer Kam Houff.  She went on to release several tracks that year that included Sweet Dreams, Sweet 2 Me, Ready for the Weekend, and Wish It Would Rain.
In 2014, Felicia began working on a nationwide anti-bullying foundation. The program seeks to promote self esteem in kids by encouraging them to be who they want to be. She joins us for this installment of TAKE5:
(Scroll to the bottom for the audio version)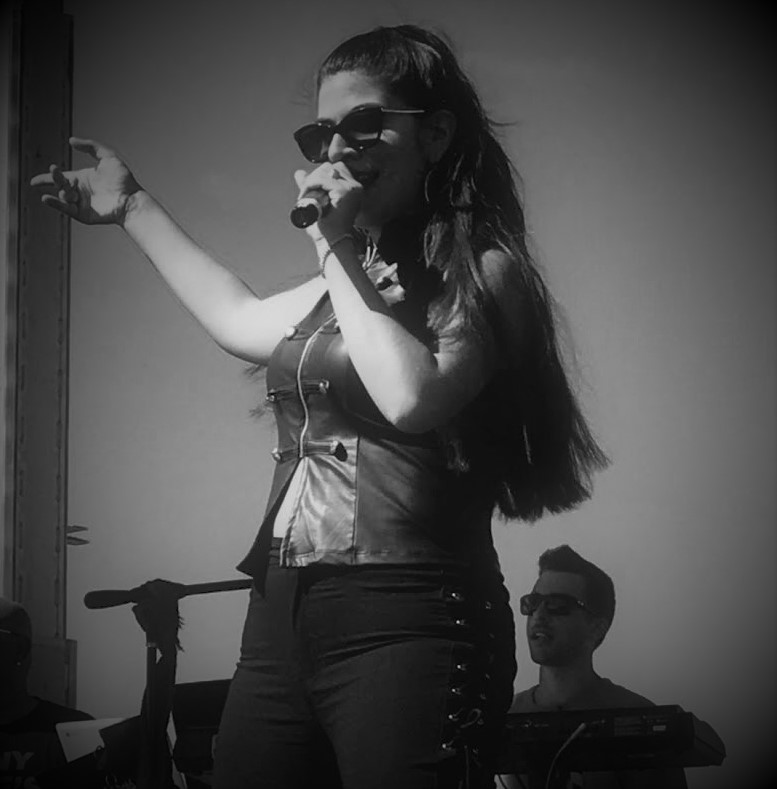 Nexus: Hey Felicia, this is Todd from Nexus Radio. Where are you at?
Felicia:  I'm good. Right now I'm home and my music-movies room where no one can hear us.
Nexus: Perfect because we've got a lot of secrets to dish out! All right, we're just going to ask a bunch of random questions. Obviously [we] want to know about your latest project, and then we want to get into the fun stuff. So tell us a little bit about what you've been working on.
Felicia:  I worked on a song called About Us. I went out to L.A. and recorded it. It's just a fun track; I've never done anything like it before. It was more "poppy," than I'm used to.  I'm used to doing the more pop-dance music. But then I got some remixes for it, and I think one was [Dave Crusher] remix- I forget the guy's name, but I really loved that remix- it connected with me.
It was my first time out in L.A. and it just 'vibed' with me really well and you know, I'm trying to get it out there as much as possible and I actually recorded another track called Thrill Ride, but it's not finished yet.
I recorded it on my grandpa's birthday and it's funny because- OK it's not really funny, but it was a very long week because my grand pop was put in the hospital and his birthday was on the 25th of July. So he was put in the hospital and we threw him a birthday party in the hospital that same night.
I went into the recording studio and I also have a full-time job, so I was exhausted but I banged out the song and I can't wait to hear the finished product. So I'm just waiting on some new music and I'm always up to recording some more and trying to get myself out there as much as possible.
Nexus:  It sounded like you were very much influenced by that incident.
Felicia:  I said that to my dad because when I was recording it I said to my dad I was just utterly focused. I was like "wow it's getting really late," but I just banged it out and I kept saying to my dad 'I feel this is like my favorite song, it's just stuck in my head and I can't wait till everyone gets to hear it.'
Nexus:  So when you're on the Tonight Show and all that [you can tell them your story].
Felicia:   I was thinking that too, everyone keeps saying that you need a story, you need a story. And I'm just a normal girl from South Philly. I don't really have a crazy story, but with that song, I feel like it's such a great story.
Nexus: Saying that you're from South Philly is also the story! The Roots (music band) are from there right?
Felicia:  Yes. I forget his name. He's got puffy hair, the drummer. (Inaudible)
Nexus:  So with the Tonight Show, it would be like Philly love. You've got The Roots playing with Felicia Punzo.
Felicia:  Yeah, I think that's great. That'd be awesome.
Nexus:  So we know Philly is known for the Philly Cheese-Steak sandwiches out there. So what would be your favorite place to eat out in Philly?
Felicia:  What would be one of my favorite spots to eat?
Okay. So I got two places to tell you. My Dad's friend's restaurant Chick's. It's a new restaurant and it's one of my favorites, we go there all the time. It's a pretty cool place.
So there's also Chickie's and Pete's is a quick place to eat, they have the crab fries that are very well known. It's also another, uh, you know, they're friends of the family. Their place is somewhere we go very often also. I really like going out to eat and trying new things. My fiancé and I go to some of the higher-end restaurants, but if we're just chilling, relaxing, and we want to get a quick plate it's either Chicks or a Chickie's and Pete's.
Nexus:  I see a lot of chicks involved. If me, your father and your fiance, we're all going out to Chicks, and you could have the opportunity to interview another musician and bring them along to dinner, what would you ask them?
Felicia:  It would be Demi Lovato. Her story is inspiring. I would ask her, you know, how to…., that's really hard. That's really hard. I'm really bad at asking questions.
Nexus:   Basically, you would just go with the flow and just ask who she is, why she is, and how she's doing. Is she an example of an inspiration for you? What has inspired you to make music and go from juggling a day to day job and a singing career?
Felicia: I've been performing since I was three, four years old. My mom taught me how to Sing Whitney Houston at the age of five. So music is very involved in my family, my brothers are DJs. My Dad was a DJ for 35 years. I always wanted to do music; it's kind of in my blood.
Both of my nephews also love music as well. It's kind of funny because the youngest one is only one and he's just obsessed with music. You know the Alexa thing? He yells at it because he wants the music to keep playing. It's so funny.
Nexus:  Alexa, I think is underpaid.
Felicia: Yeah for real, everyone uses it in my house. I can make my dog, you know, when he's in the house by itself, we say, 'Alexa, play Meghan Trainor' and the dog gets quiet.
Nexus:  That actually leads to my next question, what was the last song that you listened to?
Felicia:  I actually just came back from my Zumba class and I listened to the Cardi B song 'Like It.' (like that). That was the last song that we danced to.
Nexus:   Did it make you sweat?
 Felicia:  Oh yeah, I haven't even taken a shower yet. I literally walked through the door and my dad handed me the phone.
Nexus:   Oh, perfect timing…welcome to the music world! What would you say to your fans out there? You've been inspired by so many. How can you be an inspiration to others? What would you want to say out to your fans out there?
Felicia:  I would say, keep working on your craft. Just always believe in yourself, even when things are getting really tough and you want to give up. Just remember exactly why you're doing what you're doing. Never give up, never stop believing in yourself and always have faith that things will work out in your favor…and that comes from the heart.
Nexus:   Very well spoken. How can new fans follow you? What are your Social Media handles?
Felicia:  So I have my website, www.feliciapunzo.com. I'm always on my Instagram account, which is feliciapunzo, my twitter is @feliciapmusic but everything else is @feliciapunzo, but I'm mostly active on Instagram.
Nexus:   Do we get to see those photos of you in the Zoomba class?
Felicia:  I actually, I haven't been able to take any yet. I was just able to start working out again. I was in a car accident a few years ago, and I finally cleared. I used to perform every weekend but because of my car accident, I had to stop performing constantly. But now I'm going to be able to start doing it again. I had to get my body back to know where it was because it was a pretty bad car accident, but I'm now starting to perform again. I have a full schedule.
Nexus:   There you go. There's your story.
Felicia:  and I never think that I have one.
Nexus:  Nope, You surely do. What are we going to see for the rest of 2018? And do you have any plans already for 2019?
Felicia:  So pretty much for 2018, I'm just trying to get these songs out there. Trying to get them played on different radio stations station. Trying to work on my fitness and trying to be the best that I can be to my ability. I'm one of those people that I kind of lives in the moment and I try not to get my hopes up for anything but definitely live in the moment type of girl. I wish for the best and work hard, so pretty much that for the rest of 2018 and 2019. Plus plan a wedding, my wedding for 2020, Plus a full-time job.
Nexus:  Well it sounds like things are going really well for you. I'm really happy to hear it. Well, thank you for spending a couple minutes with me and I can sense that you definitely are going to need a shower now because now you went from a Zumba class to an interview with me and I make you sweat! Thank you so much and hopefully come out to Chicago. Guaranteed, I'm your best tour guide.
Felicia: Isn't the Chicago the windiest city or something? Is that a lie?
Nexus:  Well, it's not the lie. Long story short, it's basically related to our politics because we had a lot of "hot air." So that's why they call it the windy city.
Felicia:  I understand now. I'm going to go back in the room right now and said, hey, let's go to Chicago!
Nexus:  Yes. Call us up. Come to the studio. We got you. We got you. There's a home here for you. Enjoy the rest of your evening. Thank you. And we'll talk soon.