American production duo The Disco Fries consisting of members Nick Ditri and Danny Boselovic, took time out of their busy Miami Music Week 2019 to chat with us in the BPM Supreme-Nexus Radio Lounge about their latest projects.
Year after year, the powerhouse DJs continue to release what seems like an endless stream of infectious singles like "Follow Me" with Gazzo featuring Jones, "The Light" with Niko the Kid, and "U Make Me" with Raquel Castro– and they're just getting warmed up.
Nick and Danny hit the ground running in 2019, the New York City natives already have two catchy singles working their way up the charts: "Moving Mountains" featuring Ollie Green and "Concrete Heart" with Vassy. They attribute their consistency to being 'producers first, and DJ's second, and get all the music out without it stepping on the toes of the last thing that we just put out'.
The producers also talk about their fiery new track 'Moonlight' which is slated to be released sometime this month (May) on Spinnin' Records. And they share our sentiment about the multi-platinum award-winning recording artist Vassy, with whom they recently collaborated with on "Concrete Heart": 'she's (Vassy) just nonstop […], she's like one of the hardest working people in music, so it's cool to be part of that record'. This is Take5 with The Disco Fries!
Rons: This is RONS for Nexus Radio and we are in the BPM Supreme Lounge during Miami Music Week with The Disco Fries!
Disco Fries: Yo, what's up?
Rons: Oh, it's crazy. How's your Miami been so far ?
Disco Fries: Good. I think this is our 12th year in a row here. So it feels good to be back.
Yeah, we've played a couple of times already and we were looking forward to seeing you with your furry boots on, so now the week is complete! We can go home after this, that's it!
Rons: Well, for me, a week is not complete unless I get a new track from you guys. You guys are so… Put out so much great music.
Disco Fries: Thank you.
Rons: How do you keep your schedule going and put out so much great music?
Disco Fries: I think we were always producers first and then DJ's second. So our focus has always been like lots of music, lots of music. The biggest problem has been figuring out how to get all that music out without it stepping on the toes of the last thing that we just put out. So, we just really make it a priority [ to put out new music ].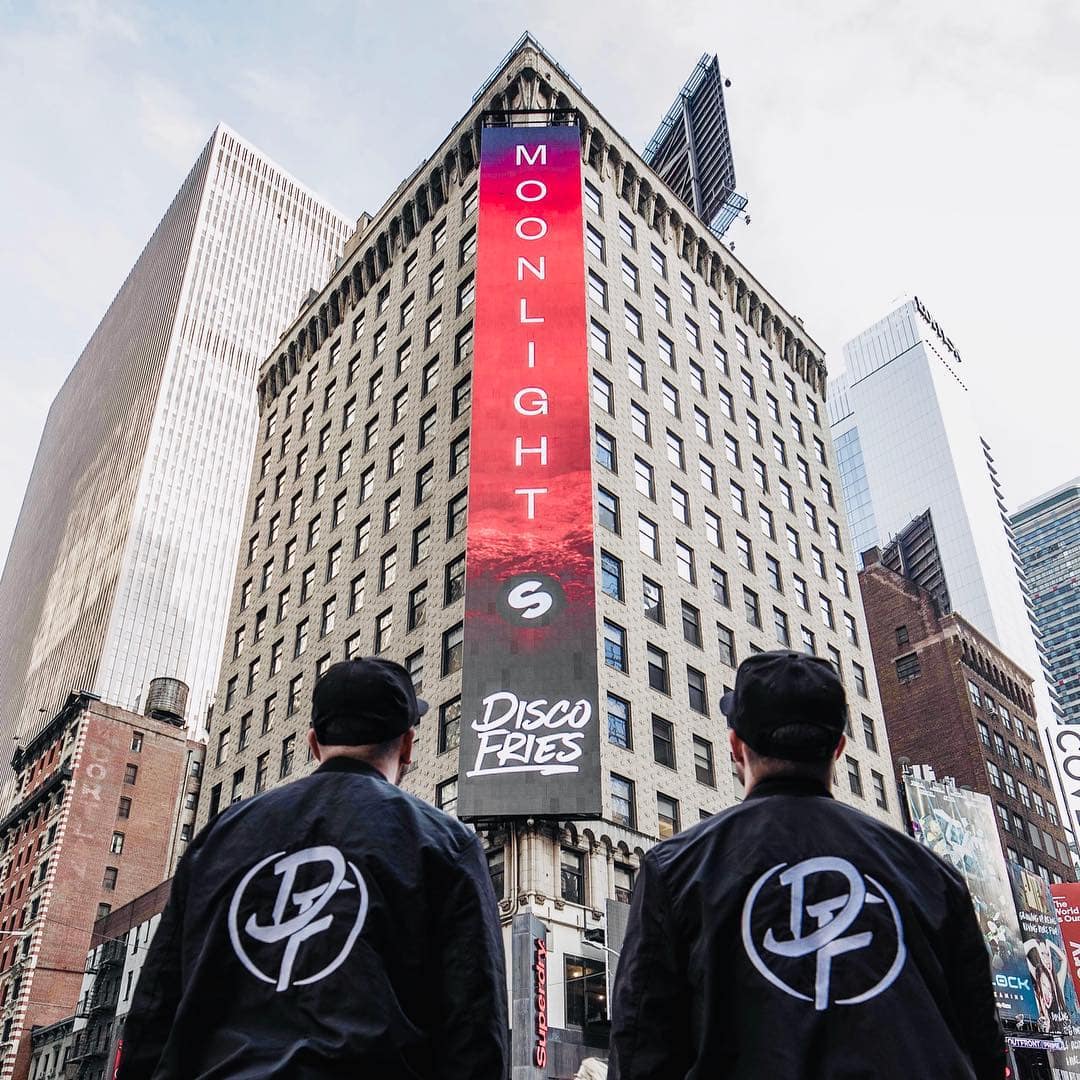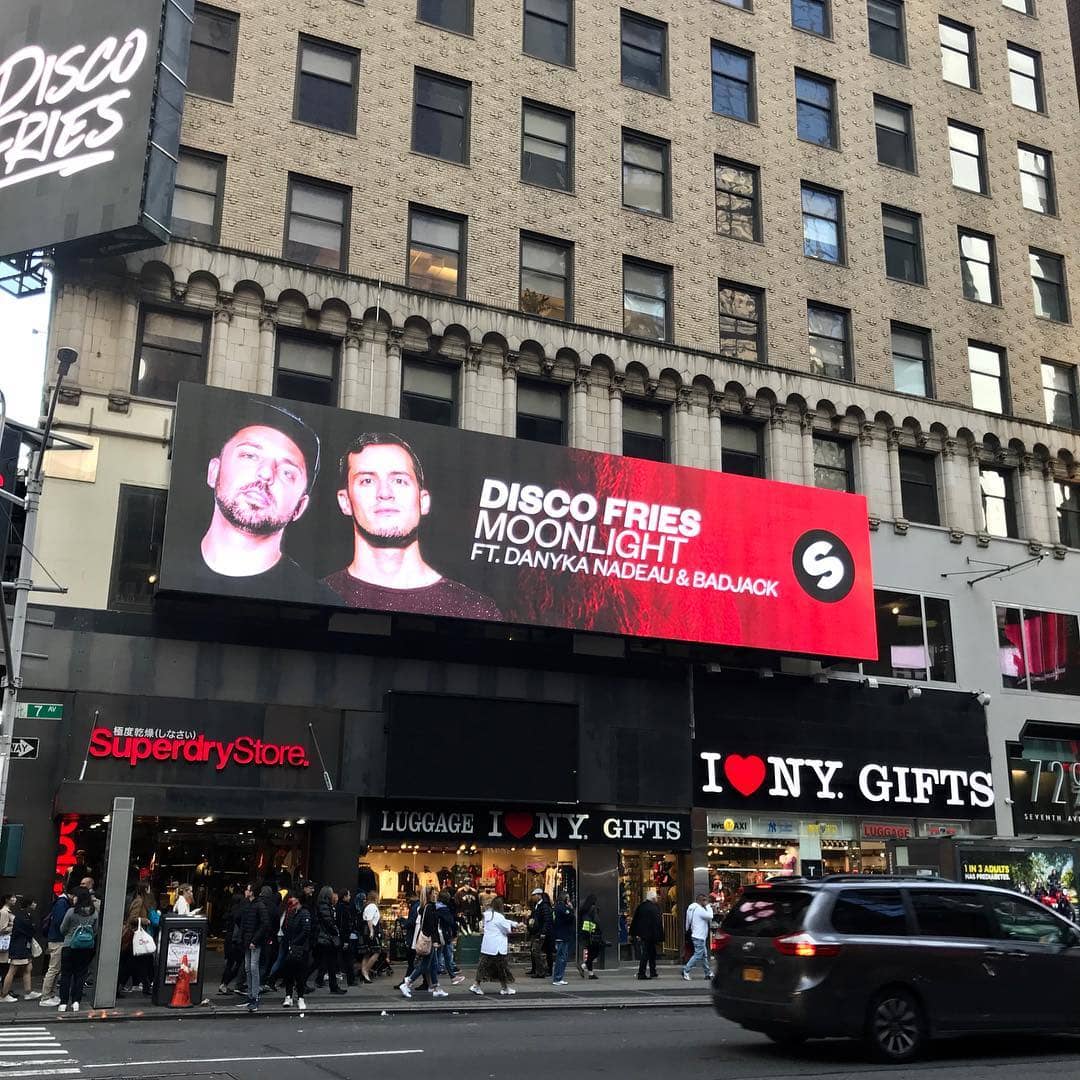 New Music: Moonlight & Moving Mountains.
Rons: What's your new record [that's] out now?
Disco Fries: So, our new record is called Moving Mountains, featuring Ollie Green on vocals. It is out on Enhanced music, and then the GATTUSO remix just came out. So [we're] pretty psyched about that because we've been working on that record for a while and now we're pushing into it. It's nice that it's finally moving because anything that sit[s] on the hard drives for too long. It's like 'hey! It's going to die on the hard drive.' … but this one came together quick. Ollie's such a dope writer. We worked with 'Hook-N-Sling' on it too on the writing and those guys are super proficient. We knocked it out and yeah! It's [finally] out.
Rons: What's coming up on the horizon for you guys?
Disco Fries: So, we've got a track coming out- I think at the top of May on Spinnin' [Records] called Moonlight, which is another vocal one with Danyka Nadeau and this guy called BadJack. We're psyched on that one, it's got like this kind of like a throwback vibe. For me anyway, it makes me think of like Cascada, D.H.T. That riffy kind of record, and it's like an emotional thing. I think it's pretty cool. We also just put out a record with Vassy called Concrete Heart that we co-produced. So we're pretty excited about that and it's doing really well, and she's just nonstop man. She's like one of the hardest working people in music, so it's cool to be part of that record. And then we've got a bunch of other stuff we really can't talk about, but there are a lot of tracks that are on the hard drive [ that are getting released.]
Rons: Now, you're all probably get sick of this question, but for the people who don't know, what exactly are Disco Fries?
Disco Fries: French Fries, cheese, gravy. It's Jersey diner food. If you're Canadian, it's similar to Poutine, although I know you think it's far inferior. It's more or less the same thing. And [it was] the first thing that Nick and I ate or it's what Nick and I ate before our first studio session together at his place in Jersey. And we needed name. And that's it, it stuck.
Rons: OK. Now you know what's up next, it's Take 5 time, the fun questions. Name one ridiculous thing you'd like to add to your artist rider?
Disco Fries: Socks. I want to wear a clean pair of socks every day for the rest of my life. And if I can do that through an artist rider that would make me a happy man. It's The least exciting thing you could possibly add, but oh man! That would bring me so much joy. And T-shirts, which we got the idea from Fat Man Scoop. Scoop adds like quadruple XL T-shirts to his rider for every show. But T-shirts are cheap- and I feel like it's way better than alcohol cause everybody needs a shirt on! [laughs]
Rons: Yes! When Nervo got this question they said 'G-strings,' they want fresh g-strings at every show- I'm not kidding!
Disco Fries: Maybe we should! but we don't want stale g-strings. That's for sure [laughter]!
Rons: Speaking about "G", what's your favorite way to relax and keep it? G-rated.
Disco Fries: I'm big on cooking, I like cooking at home, I can kind of zone out, maybe listen to a podcast or something. That's my wind down after being in the studio. Also like aimlessly driving. So like I'll do a drive to Danny's house from Jersey because he lives in Virginia. It's four hours of peace and quiet and usually Joe Rogan talking to somebody ridiculous on a podcast, but it's peaceful.
Rons: [laughter] I'm just imagining Joe Rogan doing a track with you guys.
Disco Fries: Yeah, we've got to grab a pre-drop sample.
Rons: What game show do you think you would do well on?
Disco Fries: Oh! I mean, I'm big on jeopardy. I don't know that I'm smart enough to really go home with any money, but I'd like to think I could do something like The Price Is Right for sure.
Rons: I can totally see you on The Price is Right!
Disco Fries: Yeah! I mean, I want to spin that wheel…
Want to know more about The Disco Fries?- including who is their favorite Spice Girl, their upcoming collaboration with our Trance Music Queen JES, and what makes them laugh? Listen to the full interview below!