"Insomnia" is an iconic track by Faithless, a UK-based musical group, that was originally released in 1995. Released as the band's second single, "Insomnia" became one of Faithless' most successful songs ever when it reached number 27 on the UK Singles Chart, and topped the UK Dance Chart. Upon the song's re-release in 1996, it achieved a new peak of number 3 in the UK, and topped charts in Finland, Norway, and Switzerland. "Insomnia" was voted the fifth greatest dance song of all time by Mixmag readers, and was certified double platinum by the British Phonographic Industry (BPI) in 2019.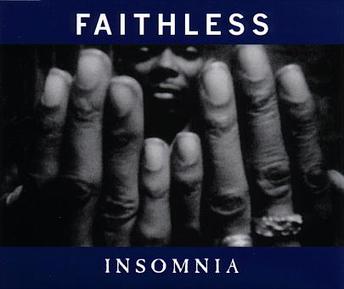 The song features Maxi Jazz rapping from the point of view of an insomniac while he struggles to fall asleep. The subject of insomnia seemed to strike a chord with clubgoers as stimulant use was common in the club/rave scene, and insomnia is a common side effect. According to Maxi, his part of the song was completed in under 45 minutes after he heard the track. Though he was not an insomniac, he drew on personal experience while writing the lyrics: he had recently suffered a painful dental abscess that caused him so much pain he was unable to sleep.
According to Sister Bliss (of Faithless), the track's music was written in bandmate Rollo's recording studio/garden shed. She came up with the song's title as she wrestled with her own battle with insomnia, saying that working in the studio during the day, and DJing at night was like having "permanent jet lag." Sister Bliss has also discussed some of the song's influences, including its reggae-inflected bassline inspired by Lionrock, and the song's shifting from major chord to minor chord as being inspired by Donna Summer's "I Feel Love."
The album version of the track is almost nine minutes long, and contains some lyrics that were unable to be aired on the radio due to their explicit content. The song has also been transformed by a number of different mixes, most popular of which were known as the "Monster Mix" and the "Moody Mix." The album version, as well as the radio mix and other subsequent mixes, were well-received by critics. A music video directed by Lindy Heymann was made to accompany the song, and to-date, it has over 70 million views on YouTube.
In addition to being certified double platinum, "Insomnia" was ranked number 14 in DJ Magazine's "Top 100 Club Tunes," and MTV Dance placed the song at number 22 on their list of "The 100 Biggest 90's Dance Anthems of All Time."