In 2004 "This Is the World We Live In" was the breakout hit from Alcazar's third album Alcazarized. We're almost two decades on and, the chances are, you've not thought about this song most of that time. After all, alongside other early 2000s hits like "The Cha Cha Slide" and Britney Spears's "Toxic," "This is the World We Live In" hasn't quite found its place in the halls of popular nostalgia. That being said, we ought not to underestimate this catchy hit. Give it a listen, and you'll be instantly transported back to a time when the internet was young, social media was barely in its infancy, and disco was still unashamedly disco. As well as being a hip-swinging beat, this song was also something of a mash-up masterpiece. For those who are unaware, "This Is the World We Live In" is an interpolation of "Upside Down" (1980) by Diana Ross and "Land of Confusion" (1986) by Genesis. But how did Alcazar put their new spin on these old classics? Let's find out in this week's flashback!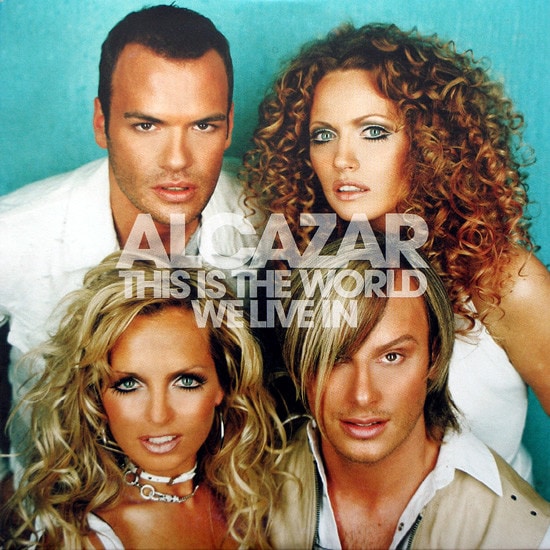 The song opens with the funky melody from Diana Ross's "Upside Down"; there's already something different. Instead of the cleaner sound of the bass and drums, Alcazar's take is covered in flanger to give a distant, almost radio-like quality.
Then, in comes the percussion, and the song kicks off. Here, the difference from Ross' song is more marked than ever. First, Ross used traditional primary instruments with an '80s spin; this is a pure disco sound, with sampled claps and flashing lights.
The chorus of the song is taken from Genesis' "Land of Confusion". The original was an iconic, overdriven '80s rock anthem, Alcazar's song has a solid beat and gallons of energy, and the result is nothing short of a dance sensation. The melody is the same, and the lyrics are essentially the same, but the tone and style are entirely different. "Land of Confusion" was a dark satire about the times the band was living through, filled with comedy and politics. "This is the World We Live In" is none of those things. Instead, it's just fun through and through. Alcazar isn't trying to make you think about the world–which we'd all instead do a bit less of anyway–they're just trying to give you a good time, and that's what disco is all about.
Although they were huge in 2004, Alcazar took a break the following year. However, they reunited briefly in 2007 and began rereleasing new material in 2008. Their last album, Disco Defenders, was released in 2009, but they are working on a follow-up.
The group is still well known and loved by fans in their home country of Sweden. After their many contributions to Melodifestivalen–Sweden's annual competition to decide on their Eurovision entry–they were invited to perform in the competition's 2020 Hall of Fame.
They are also popular with the LGBTQ+ community, having performed at various pride and G-A-Y events throughout the years.
While at home, "This is the World We Live In" is just one among many of Alcazar's classic hits, internationally and particularly in the US market; the band is primarily known for this song alone.
Suppose this is all bringing back memories of a classic disco tune. In that case, you should also check out their other tracks. Crank up the volume, break out those party lights, and hit the dance floor because, with their high-energy tunes, catchy rhythms, and outstanding live performances, Alcazar is always sure to raise your spirits.