The Eurodance duo La Bouche, which featured rapper Lane McCray and vocalist Melanie Thornton, conquered dance floors in the mid-'90s with hits like "Be My Lover."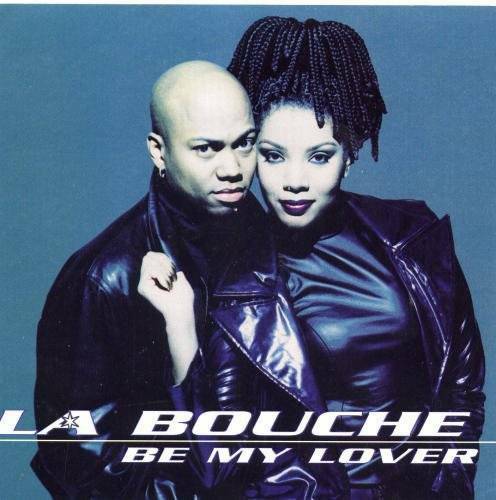 La Bouche (French for "mouth") is the brainchild of German producer Frank Farian, who is also behind Boney M and Milli Vanilli. In 1993, Melanie Thornton sang on a "Sweet Dreams" demo for producers Amir Saraf and Uli Brenner, who worked with the legendary Frank Farian. A year later, Farian released "Sweet Dreams," which became a hit in Europe. Farian invited Lane McCray, with whom Thornton had previously collaborated in a German cover band, to join the latter in the newly established La Bouche.
"Be My Lover" is a Eurodance song made by La Bouche and released as the second single from their debut album, Sweet Dreams, in March 1995. In December 1995, it peaked at number six on the Billboard Hot 100 and spent two weeks atop the Billboard Hot Dance Club Play chart. It was their breakout smash in the United States and a global hit, sweeping the charts in Europe, the United Kingdom, and Australia and reaching #1 in Germany and Sweden. It has sold six million copies worldwide to date. It was dubbed into several megamix songs and has had several remix versions, and it remains one of their most successful singles, alongside "Sweet Dreams." "Sweet Dreams," their earlier European record, was also a worldwide success and was issued as the second successful single in America after "Be My Lover" became a hit. The album was certified five-times platinum and nine times gold in various countries.
"Be My Lover" has two music videos; one is a European version, and the other is an American one.
The European version was shot in the city at night at the beginning of 1995. Melanie Thornton appears in black dominatrix attire. She's in a van, abducting McCray and transporting him to an underground club where numerous guys are held captive. They're dangling from hooks in the ceiling upside down. Thornton sings while walking around these men. McCray suddenly manages to break free and raps at Thornton. Unfortunately, McCray is not captured in the edited version, and practically all of the sequences with the men hanging upside down have been removed. In February 2016, La Bouche's official YouTube channel released the unedited music video. As of this writing, it had received over 86 million views.
The American version shows Thornton singing into a microphone and wearing a purple dress in the studio at the beginning of 1996. In February 2014, it was uploaded to YouTube, and as of this writing, it had over 10 million views.
S.O.S., the group's second album, was postponed until 1998 due to delays. After becoming dissatisfied with the group's direction, Thornton left the group in 2000 to pursue a solo career and was replaced by Natascha Wright. Thornton's first single reached the top 20 in Germany, but she tragically died in a plane crash on November 24, 2001, while flying to promote her new album.
To pay tribute to the vocalist, Farian released "In Your Life," a previously unheard song featuring vocals recorded earlier with Thornton and McCray. McCray continues to perform as La Bouche worldwide, keeping the brand alive.
La Bouche had so many hits that it's reasonable to say they were one of the most dominant groups at the time in the club music scene. It was impossible to escape their songs no matter where you went, and many people still play their music at gatherings today. Each song was gold because it had Melanie Thornton's powerful vocals, Lane Mckay's smooth rapping, and incredible dance beats in the background. Many artists tried to mimic their style, but none could match their level.