Welcome to Flashback Friday, where we take a trip down memory lane to revisit some of the most iconic tracks from the past. Today, we're diving into the infectious rhythms of the Underdog Project's timeless hit, "Summer Jam." Released in 2000, this dance anthem took the world by storm, becoming a staple on radio stations, clubs, and playlists everywhere. Join us as we explore the magic behind this unforgettable track and its enduring popularity.
Unleashing the Summer Vibe: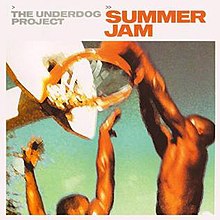 "Summer Jam" encapsulates the essence of the season, delivering an irresistible fusion of dance, pop, and reggae elements. The German dance project, consisting of Toni Cottura, Craig Smart, and Vic Krishna, masterfully crafted a track that was destined for chart-topping success. The song's energetic beats, catchy melodies, and vibrant lyrics effortlessly transport listeners to a sun-soaked beach party.
At the heart of "Summer Jam" lies its infectious hook—a sample of the 1997 hit "Fiesta" by The Sunclub. The catchy whistle-like melody became an instant earworm, lodging itself in the minds of listeners around the world. The Underdog Project cleverly infused this memorable hook with their own unique touch, incorporating uplifting vocals and an energetic delivery that further elevated the track's appeal.
International Success:
"Summer Jam" quickly became an international sensation, reaching the top of the charts in numerous countries, including Germany, Austria, Switzerland, and the Netherlands. Its success was not limited to Europe; the song crossed the Atlantic and gained significant popularity in North America and beyond. The track's universal appeal transcended language barriers, making it a favorite among music enthusiasts worldwide.
Nearly two decades later, "Summer Jam" continues to resonate with music lovers and remains an essential part of nostalgic playlists. Its timeless quality speaks volumes about its enduring charm. The track has been featured in various films, commercials, and sporting events, ensuring its place in popular culture. Its distinctive sound and infectious energy have influenced subsequent dance music artists and continue to inspire new generations.
Over the years, "Summer Jam" has been remixed and adapted by numerous artists, each putting their own spin on the beloved track. These remixes have breathed new life into the song, introducing it to younger audiences and adding fresh elements to its already captivating sound. These adaptations pay tribute to the track's enduring legacy and demonstrate its continued relevance in the ever-evolving music landscape.
Underdog Project's "Summer Jam" remains a beloved classic that encapsulates the spirit of summer and the joy of carefree moments. Its infectious beats, unforgettable hook, and timeless appeal have secured its place as a true dance anthem. As we revisit this iconic track on Flashback Friday, we celebrate its lasting impact and its ability to transport us back to sun-soaked days and nights of endless fun. So, turn up the volume, let the music take you away, and get ready to dance to the euphoric rhythms of the Underdog Project's "Summer Jam."