For the last few days, The Chainsmokers have been releasing more and more information about their upcoming "Memories… Do Not Open" Tour, which starts on April 13th in Miami. It's a 40-date tour across the US and all the shows will definitely be a big thing according to their latest tweets.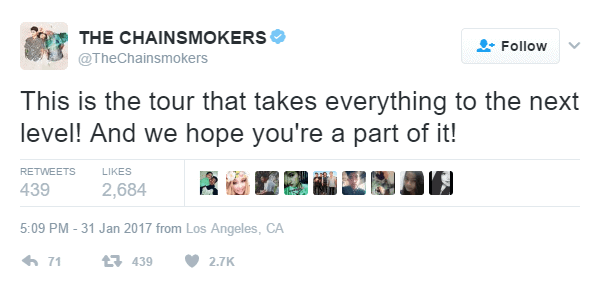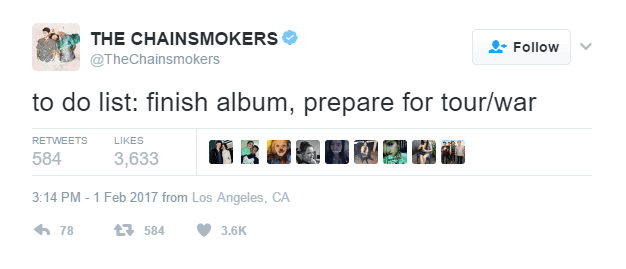 At first, there was a bit of a shock regarding the price of the tickets, especially for those who want VIP accommodations, but there are some very awesome perks that come along. GA tickets range from $40-$90 (the only exceptions is Toronto, where it exceeds $100), VIP packages range from $200 to $900+, and all tickets automatically give you a copy of their upcoming album. The above-mentioned perks include Meet and Greet, soundcheck visiting other types of access, but there's no doubt that the higher the price, the more you get.
These guys are preparing something huge and it's not only because they are taking over arenas across America, but the promise is that this tour is going for the gold with next level production and stage, nothing like you've seen before. Also, they will be joined by amazing guests like Emily Warren, K?d, Alison Wonderland, Kiiara, Grandtheft, Kyle, Lost Frequencies, Gryffin, Illenium, Shaun Frank, and Whethan, plus those who have not been announced yet.
If paving the road to success is a hard job, The Chainsmokers are definitely doing it right. The single "Paris" debuted on Billboard's Hot 100 chart at #7 last month, there are upcoming dates in Europe, Central, and South America, an upcoming album, and the promise of what may be their greatest presentations so far.
There's still time to raise enough dough for this one, but tickets are selling fast, so be sure to go to their website and guarantee your spot.