L.A.-based DJ Damon Sharpe graced us with his presence at the Greats Brooklyn pop-up studio during Nexus Lounge Miami. He walked us through his musical journey and gave us a chance to know him on a deeper level through our Take 5 series!
Damon Sharpe is the source of positive energy in the music business and beyond. He has won multiple awards for his work as a producer and songwriter, and his career spans both the mainstream and the electronic music scenes. The definition of a multi-hyphenate, the DJ, producer, composer, actor, and recording artist has worked behind the scenes with the likes of Jennifer Lopez, Ariana Grande, Pitbull, and Alesso, among many others, and is now soaking in the limelight as his artist.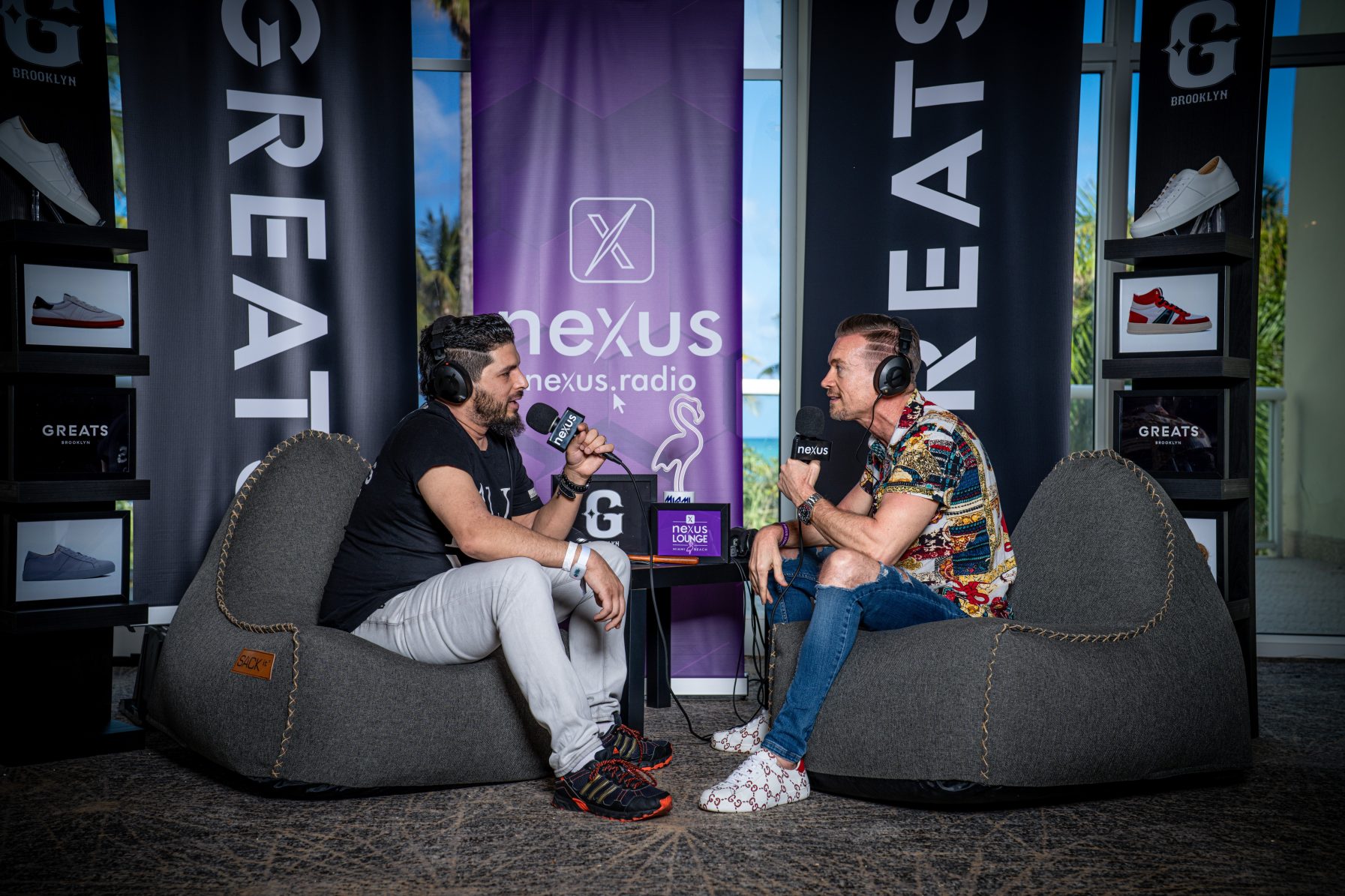 However, Damon Sharpe's rise to prominence was hardly an overnight sensation. "I've gone on this roller coaster ride of being signed at 16. I always tell people I went from taking pictures with Will Smith up here to fast forward two years later, serving him a Pepsi as a waiter. It was a crazy, humbling life lesson to experience that. So I think now I was fortunate enough to have a second chapter in my life," the DJ said, thinking back. He first gained fame as a member of the band "Guys Next Door," and his subsequent work has helped produce records that have sold over 40 million copies worldwide.
 The American DJ has been featured in Billboard, EDM.com, and Dancing Astronaut, among other respected publications. His music has been aired on radio stations like Sirius BPM and iHeart Evolution and TV shows like Dance Rising and Mint, and he has earned praise from DJs like Don Diablo, Lucas & Steve, Hardwell, Afrojack, Sam Feldt, Martin Garrix, and more. As an artist, he has achieved over 93M streams on Spotify and 2 billion streams as a producer-songwriter.
And now, with his latest single, "Man of the Year," Damon Sharpe has landed on the rapidly growing Insomniac Records brand STNS, further boosting his strong fanbase. The track is an upbeat song combining tech and bass house elements. The original track's dreamy yet joyous vocal hook is given new life as a guttural, pitched-down version that complements its powerful synth plucks, flowing bass lines, hazy undertones, and quavering fills.
In addition, Damon Sharpe hinted at another future song on Dirty Works, set for release in July, and this year is shaping up to be an eventful one for fans of the DJ.
After seeing such a dramatic turnaround in his musical career, Damon Sharpe felt excitement and happiness. When asked how he stays happy and positive, Damon said, "Younger Damon would make fun of meditation, I would make fun of gratitude list, I'd make fun of working out, I make fun of eating clean. Now I incorporate all those into my life, giving me such a more beautiful balance."