Happy Flashback Friday, music lovers! Today, we're throwing it back to the early 2000s with a track that struck a chord deep within our hearts: D.H.T.'s enchanting rendition of "Listen To Your Heart." Released in 2005, this dancefloor anthem captured our emotions and had us belting out the lyrics at the top of our lungs. So, let's turn up the volume, reminisce, and let the nostalgic vibes of "Listen To Your Heart" wash over us once again.
D.H.T., a Belgian dance music group, breathed new life into "Listen To Your Heart" with their heartfelt interpretation. The track, originally performed by Roxette in the 1980s, received a fresh dance-pop makeover that elevated its emotional impact. With soaring vocals by lead singer Edmée Daenen and uplifting electronic beats, D.H.T. turned this beloved ballad into an electrifying dance anthem.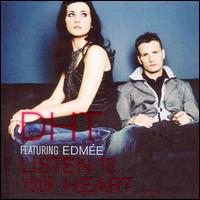 "Listen To Your Heart" is a song that tugs at our heartstrings and stirs our emotions. Its lyrics about love, longing, and following your heart resonated with listeners around the world. The combination of Edmée's powerful vocals and the pulsating beats created an emotional whirlwind on the dancefloor, allowing us to connect with the music on a deeply personal level.
When "Listen To Your Heart" hit the airwaves, it became an instant hit on dancefloors everywhere. Its infectious rhythm and anthemic chorus had us losing ourselves in the music, moving and swaying to the beat with abandon. The track's ability to unite people and create a collective euphoria was truly magical, making it a favorite at parties and clubs.
Even after all these years, "Listen To Your Heart" still holds a special place in our hearts. Its unforgettable melodies and passionate lyrics continue to evoke a sense of nostalgia, transporting us back to a time when music spoke to our souls. It serves as a reminder of the power of music to touch our lives and ignite a multitude of emotions.
Take a moment today to indulge in the captivating allure of "Listen To Your Heart." Close your eyes, let the music envelop you, and allow yourself to be transported to a place where love and emotions intertwine. Whether you're reliving past memories or discovering this gem for the first time, let the power of "Listen To Your Heart" wash over you and uplift your spirit.
As we celebrate this Flashback Friday, let's honor the profound impact of D.H.T.'s rendition of "Listen To Your Heart." This dancefloor anthem reminded us to embrace our emotions and follow the beat of our own hearts. So, let the music play, dance like nobody's watching, and let the melodic waves of "Listen To Your Heart" fill your soul with joy and nostalgia.