This week, we flashback to Groove Coverage's "Moonlight Shadow", the German dance band's 2001 breakthrough single from their debut album, Covergirl.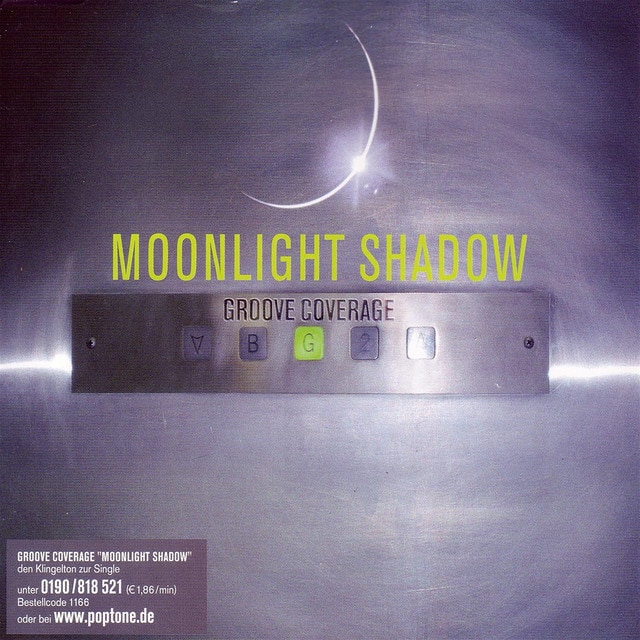 Formed in the summer of 2001 by DJ Novus and consisting of producers Axel Konrad, Ole Wierk, and DJ Novus, as well as Melanie Munch (lead singer also known as Mell) and Verena Rehn (backup singer), Groove Coverage is a still-active German dance group best known for their Eurodance hits. Consistently releasing remixes and original dance tracks since the early aughts, Groove Coverage first broke into the scene with their hit single "Moonlight Shadow."
If you're a fan of Eurodance, you've probably heard "Moonlight Shadow"—simultaneously bombastic and hauntingly melodic, the single is Groove Coverage's take on a Mike Oldfield hit folk track of the same name. With production typical of the group's extensive dance output, including a pumping drum machine and a variety of unique synths that underscore an ear-wormy melody line, "Moonlight Shadow" proved to be a breakthrough for Groove Coverage, peaking at No. 3 in the band's native Germany and setting the scene for their later critical and commercial successes, namely their sophomore album 7 Years and 50 Days (2004). This second record included singles "The End" and a cover of Alice Cooper's "Poison", two of the most successful releases by Groove Coverage, charting at #14 and #2 on Germany's Top 100 Singles chart.
The original song by Mike Oldfield, released as a single by Virgin Records in 1983 for the critically successful album Crises and featuring vocals by Maggie Reilly, is to this day one of the multi-instrumentalist's most successful releases, charting at no. 1 throughout Europe and reaching no. 4 in the United Kingdom. A celebrated producer and songwriter, Mike Oldfield is now probably best known for his 1973 record Tubular Bells, an entirely instrumental album whose opening track was famously used in the supernatural horror film The Exorcist (1973).
Peripherally inspired by the assassination of John Lennon in 1980—an event that not only profoundly affected the music world of the early eighties but for which Mike Oldfield was also present, staying at a hotel in New York a few blocks from the site of the Beatle's murder—"Moonlight Shadow" mainly reinterpreted ideas and stories from Houdini, a 1953 classic Hollywood film about the life of Harry Houdini and starring Tony Curtis and Janet Leigh. Lyrics like "Stars move slowly in a silvery night / Far away on the other side" and "I stay, I pray / See you in heaven far away / I stay, and I pray / See you in heaven one day" refer to the supernatural themes of the film, only further underscored by Maggie Reilly's ghostly vocals.
Groove Coverage's take on "Moonlight Shadow" subverts some of the song's original themes but acts as an incredibly successful and dance-worthy contemporary version of the original. Several top-notch remixes exist of Groove Coverage's track, including a jaw-dropping French Club Mix and superlative Extended Version by the group itself; that being said, nothing hits quite as hard as the group's now iconic original.