In this week's flashback, we're going back to 2006 to take a look at September's "Cry For You," sometimes known as "Cry For You (You'll Never See Me Again)." The instantly recognizable track takes inspiration from various subgenres, including Europop, house, and dance-pop.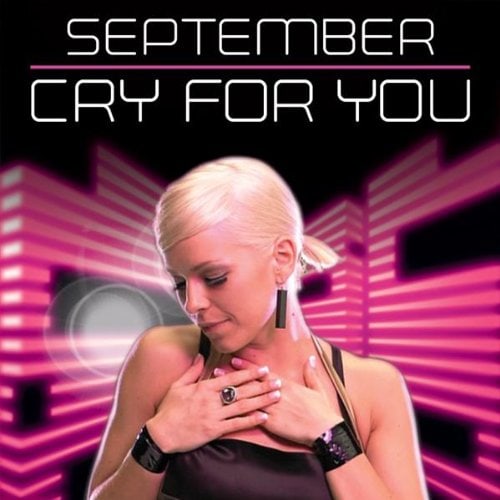 Swedish singer Petra Linnea Paula Marklund, performing under the pseudonym September, began recording professionally at the tender age of twelve. The young singer first sparked attention in the world of music with her 2003 single "La La La (Never Give It Up)," followed by a self-titled, full-length studio album in 2004. Marklund's third studio album, In Orbit, was released alongside two smashing singles, "Satellites" and "Cry For You." The latter was written by Anoo Bhagavan, Jonas von der Berg, and Niclas von der Berg.
In 2007, September geared up for a worldwide rerelease of "Cry For You." When asked why Petra decided to rerelease the track, she explained, "The song was so strong by itself… it feels like the fans are starved of dance music. But now dance music is returning again, and the world is getting smaller and smaller because of the internet … I think that a hit song will always find a way." And find a way it did!
"Cry For You" was met by impressive critical acclaim. AllMusic's K. Ross Hoffman recognized the track as "an obvious standout." He commended September's polished yet powerful vocals and the emotional sophistication of the sound. Nick Levine of Digital Spy described "Cry For You" as "relentlessly danceable and desperately sad."
The single spurred two music videos to promote its release further. The original video featured Petra in a promotional photoshoot. With the international version, the singer and her team took more creative liberty, designing an imaginative, futuristic world with clones in matching black suits. One of the clones breaks free and removes her glasses and hood, revealing herself as September. She is pursued by guards but eventually escapes and breaks free from the "prison."
When it came to the charts, Marklund's song met varied success. It peaked on Billboard's Hot 100 at seventy-four and the Pop 100 at twenty-nine. Following the UK and Ireland remix under Hard2Beat Records, "Cry For You" peaked at number five. In addition, the song entered the charts in many other countries, including France, Switzerland, the Netherlands, Australia, and New Zealand. By 2010, September's pivotal career moment was certified gold with the sale of over 500,000 copies. A Swedish artist had not been certified by the RIAA since Ace of Base released "Cruel Summer" in 1998. The track recaptured the public's attention in 2018 when it became popular to use in internet memes. The track was sampled in 2022 by British singer/songwriter Charli XCX on a track titled "Beg For You."
Petra Marklund's international success with "Cry For You" was an unprecedented achievement for a young Swedish artist. She continued making music, finding fortune globally and in her own country and language. So crank the volume and prepare to transport back to the desperate, throbbing club scene of the early 2000s with September's "Cry For You."