I guarantee you've seen this trope before: a young heroine clouded in steam, oblivious to the swelling music, unaware of the knife-wielding murderer silhouetted on the shower curtain. Throw in a black-and-white camera, a healthy dose of violin shrieks, and some fake blood, and you've got the most iconic murder scene in Hollywood cinema. Even if you haven't personally seen Alfred Hitchcock's 1960 monolith Psycho, that scene is a permanent function of the genre.
Cut to 2017 as Bates Motel, a Psycho prequel series, is airing its fifth and final season, the finale of which will feature none other than pop idol Rihanna as the doomed steam-clad heroine Marion Crane. This will be Rihanna's first foray into the world of television, and as far as first tries go, this one will be a doozy. Not only does she have to fill the shoes of English treasure Vivian Leigh, but she'll attempt it while performing what is arguably Leigh's most famous role.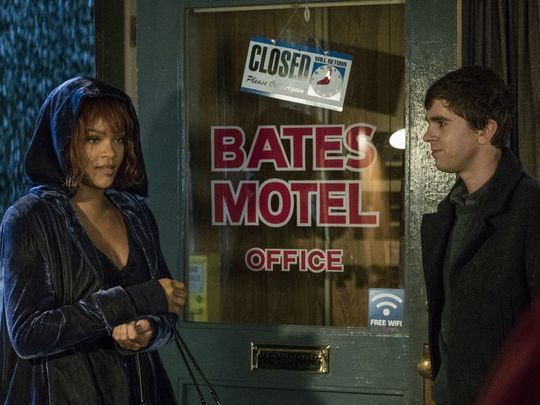 The Barbadian-born singer announced her new role last year with a YouTube video addressed to San Diego ComiCon. The show's executive producers Carlton Cuse and Kerry Ehrin issued a public statement after the announcement detailing their excitement.
"We wanted to thrust the iconic role into a contemporary spotlight and redefine it in a meaningful and exciting new way. We also heard that Rihanna was a fan of the show, and we were huge fans of hers, so it was the perfect collision of creativity and fate."
As for whether Rihanna manages pulls it off, you can be the judge by tuning into A&E for the two-part finale starting tonight (March 20th) at 10pm, and concluding on March 27th at the same time. If all goes well, this could be the start of something entirely new for one of America's favorite icons.