If you consider Cindy Lauper, Lady Gaga, Madonna, and Rihanna badasses, you should learn more about the woman who pioneered their respective styles. Cher, widely called the "Goddess of Pop," has done the unimaginable by virtually robotizing her trademark voice. For an early example of what we now call the "Cher Effect," let's dive into her 2002 single "A Different Kind of Love Song."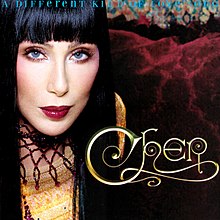 Cher is an American icon in music, film, and television. The media often called her the "Goddess of Pop" and cited her as the standard of women's empowerment in a traditionally male-dominated field. Throughout her six-decade-long career, Cher has become famous for her distinctive contralto singing voice, extensive work in multiple realms of entertainment, and her willingness to experiment with her appearance and style.
Cher's "A Different Kind of Love Song" is found on her 24th studio album, 2001's Living Proof. Songwriters Sigurd Rosnes, Johan Aberg, Michelle Lewis, and Anders Hansson were responsible for the track's production and creation. This dance-pop tune, released in July 2002 by Warner Bros. Records and WEA as a double A-side single with "The Music's No Good Without You," alludes to sorrow, courage, and solidarity themes.
Reviews for "A Different Kind of Love Song" were mainly good, with some critics pointing out that Cher's voice sounded over-processed due to her use of auto-tune, but calling it a standout track. The song peaked at number one on the Dance/Club Play Songs chart, number two on the Hot Dance Music/Maxi-Singles Sales chart, and the Adult Contemporary chart.
The song did not have a music video to accompany it, but Cher played it several times. These included an episode of Will & Grace, her Living Proof: The Farewell Tour concert tour, and the 50th-anniversary special of American Bandstand in 2002.
Cher's "A Different Kind of Love Song" celebrates a recurring topic in her music: that despite superficial differences, we are ultimately the same. We can discover our shared ground by working together and accepting one another's differences. Moreover, we must stop putting others down and recognize that we all feel and deserve respect.
As we all know, Cher rose to fame in 1965 as part of the folk-rock power couple Sonny & Cher, whose single "I Got You Babe" hit number one in the United States and the United Kingdom. At the same time, her solo career began to take off with the success of the singles "Bang Bang (My Baby Shot Me Down)" and "You Better Sit Down Kids," both of which reached the top ten. Then, in the 1970s, she catapulted to popularity as the host of two hit CBS series: the groundbreaking The Sonny & Cher Comedy Hour, which attracted an average of over 30 million avid fans per week throughout its original three-year run, and the self-titled Cher.
Not just her singing and acting have made her legendary; it's also her fashion sense, political beliefs, online presence, charitable works, and campaigning on issues like LGBTQ+ rights and HIV/AIDS prevention.
The message of "A Different Kind of Love Song" is clear: in Cher's world, everyone is treated equally. So crank up the volume and prepare to get taken back to the fierce, pulsating dance scene of the early 2000s with Cher's "A Different Kind of Love Song."