The decade of the 2000s was a defining moment in music history. Music was being released on innovative social media platforms, and radio was flourishing for the last decade. The musical influence in the 2000s revolutionized the industry and propelled many artists to the top of the charts. You may have heard Britney Spears dominates the pop genre and Eminem conquers hip-hop, but have you ever heard of Fragma, who thrived on trance? One of their songs is "Everytime You Need Me," and if you know it, you're a legend!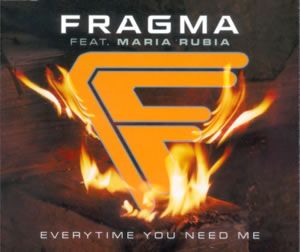 Fragma was formed in 1999 by producer brothers Dirk and Marco Duderstadt, along with record producer Ramon Zenker. The group achieved popularity in the early 2000s when they released the first few singles that charted well across Europe, particularly in the United Kingdom and Ireland, but also gained some success in the United States and Australia.
 "Everytime You Need Me" is a song written by Fragma and performed by Maria Rubia. It was introduced as the third single from their debut album, Toca, in January 2001. It reached number three on the UK Singles Chart and in Finland, and it also charted in Ireland and Norway.
The song quickly became one of the sounds of the 2000s. High school carefree days, summers spent at the beach, and hanging out with friends after exams: this was the soundtrack to it all. This song will live on in the hearts of many people forever, as the early 2000 trance track was undeniably blissful and timeless.
 In 2011, the song was revived ("Everytime You Need Me 2011") with a new instrumental featuring Damae's vocals and new remixes. Of course, the rhythm is cleaner, but it retains the same nostalgic feel.
Following the departure of vocalist Damae in 2012, the group continued to work on music and released numerous successful singles in the early 2000s. After a several-year hiatus, Fragma appointed a new vocalist, Tess, to front the band in 2017. Tess performs "Everytime You Need Me 2011" on their global tours and sings re-recorded remixes of Fragma's biggest hits in clubs worldwide.
Fragma released its first new music in nine years on July 2, 2021, with the melodic dance track "I Want More," featuring Tess on vocals. First, however, if you want to be transported back to the year 2000, listen to "Everytime You Need Me."