If you find yourself humming Kylie Minogue's tunes non-stop, it's high time to pack your bags and head to the fabulous Las Vegas!
We thought summer couldn't get any hotter with her "Padam Padam," but Kylie turns the whole year into a musical rollercoaster with her upcoming album "Tension" and a Sin City residency like no other!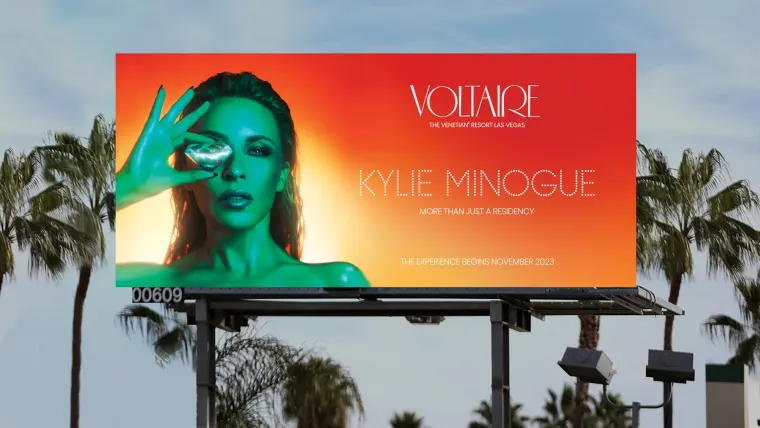 The Las Vegas Residency Confirmation
The Venetian Resort in Las Vegas made a thrilling revelation on July 27th with not just one but two incredible announcements. They unveiled the exciting new entertainment concept called "Voltaire" and pulled off a spectacular feat by securing one of Las Vegas' rare "residency unicorns" – the Australian pop-disco sensation Kylie Minogue, who will headline for the first time in the city. After over a decade of swirling rumors, it's finally happening: joining the ranks of pop music royalty like Cher, Adele, Celine Dion, and Katy Perry, Kylie Minogue is all set to make her mark on the dazzling Las Vegas Strip.
Kylie Minogue is a perfect fit as a resident artist in Las Vegas, ticking all the right boxes. Her fame extends domestically and internationally, having sold an impressive 80 million records worldwide, amassed 5 billion streams, and achieved 8 UK No. 1 albums. Notably, she holds the record as the only female artist to secure a No. 1 album in five consecutive decades in the UK, showcasing her enduring talent. Although numerous venues in town have pursued her for years, she had only committed to this moment, making her highly anticipated residency all the more exciting.
"It's a dream scenario so far," Minogue says in a news conference in Los Angeles. "I've performed a couple of times in Vegas, like when we did the Showgirl tour in 2004. At that time, we said, 'this feels like a Vegas show' as it's designed to be in one place."
How Much Will the Tickets Cost?
The newly transformed 1,000-seat Voltaire, previously known as the Opaline Theater and famous for hosting Blue Man Group and Rock of Ages, is set to open its doors on November 3rd. Tickets for Kylie Minogue's performances will be available for purchase starting August 9th. For general admission standing-room-only, the prices begin at $200, excluding taxes and fees. Alternatively, table packages are designed for two people, starting at $1,000, including tickets and a beverage spend requirement of $600, excluding taxes and fees.
What Would Be Kylie Minogue's Show Concept?
Kylie Minogue's show concept is still a work in progress, but she's giving us a sneak peek into what to expect. She's cooking something unique, blending the best of both worlds: "a combination of those intimate moments and then some flashy stuff." This time, she's venturing into uncharted territory with a venue quite different from the massive arenas she's accustomed to.
"I want it to be the essence of what a Kylie show has become—glamour and abandon. I have some versions of songs that have not been heard, reinterpretations of songs, a live band, dancers, amazing costumes," Minogue added.
Will The Show Feature All of Her Songs?
Well, here's the scoop! Due to the pandemic, Kylie couldn't tour with her previous album, so she's excited to finally perform some of the tracks from 'Disco' live for the first time.
Moreover, Kylie Minogue is all set to dazzle the audience with tracks from her upcoming sixteenth album, "Tension." She's even crafted a song titled "Vegas High," which she cleverly used to tease the residency. Rumor has it that this catchy tune may become the residency's anthem, adding an extra layer of excitement to the experience.
The element of surprise is one of the major draws at Voltaire, and Kylie Minogue is keeping her lips sealed about potential guest stars joining the party.
"I have not asked anyone, but trust me. I think maybe one of the beauties will be that there's always a number of people not far from Vegas," she says.