When Madonna's pivotal third album, True Blue, came out, she surprised the world with a new song: "Live to Tell," the dramatic ballad that served as the album's lead single.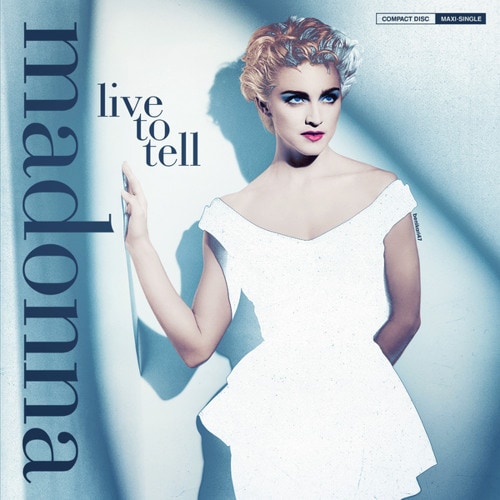 "Live to Tell" is one of Madonna's very first ballads. Co-written by Patrick Leonard and released on March 26, 1986, it was the theme song for the film At Close Range, featuring Madonna's then-husband, actor Sean Penn. She relied on dance songs like "Lucky Star" and "Borderline" early in her career, but slow songs like "Take A Bow" and "This Used To Be My Playground" have done quite well for her. The song is a pop ballad featuring guitars, keyboards, percussion, and a synthesizer, and its lyrics are about deception, mistrust, and childhood traumas. Madonna's first image change is depicted in the music video, which features her with a cleaner look, shoulder-length wavy golden blond hair, conservative clothing, and modest make-up. Madonna's inspiration for this toned-down blond look was Marilyn Monroe, a performer Madonna had previously admired.
Madonna is an American singer, songwriter, actress, director, dancer, and entrepreneur, born Madonna Louise Ciccone on August 16, 1958. Guinness World Records recognizes her as the best-selling female recording artist, with more than 300 million albums sold worldwide. She is known for constantly reinventing her music and appearance and maintaining a standard of autonomy within the recording industry. She was named one of Time's "25 Most Powerful Women of the Past Century" for her influence on modern music. Critics have hailed her eclectic musical productions, but they have also been known to cause controversy.
It took Madonna a few years to establish the vocal range for the ballads. It was a brave decision for a single release, given the song's dark undercurrents and unresolved narrative. "Live to Tell" was a significant departure from her only previous ballad, "Crazy For You." However, any radio programmers who were hesitant to recognize Madonna as a serious artist couldn't deny the song's beauty and could record buyers, and the combined support propelled "Live to Tell" to the top of the pop charts.
The song climbed the charts quickly, reaching #1 on the Billboard Hot 100 for the week of June 7, 1986. After being blocked for two weeks by Whitney Houston's "Greatest Love of All," "Live to Tell" ultimately reached #1, but only for a week before being replaced on the chart by Patti LaBelle and Michael McDonald's "On My Own."
"Live to Tell" became Madonna's first #1 hit on Billboard's Adult Contemporary chart the week of May 31, 1986.
In 2009, Madonna told Rolling Stone, "Sometimes when I'm writing songs, I'm just channeling." "I could say that 'Live To Tell' was about my childhood, my relationship with my parents, father, and stepmother. But maybe not. It could be about something in an F. Scott Fitzgerald novel or a story that I heard once. So it's true, but it's not necessarily autobiographical."
With the song's success comes controversy. Madonna sang this song while dangling from a gigantic cross and wearing a crown of thorns during her 2006 "Confessions" tour. It, predictably, sparked a lot of debate and enraged certain religious groups. As a result, NBC refused to show the cross moments during a special of Madonna's concert. "When I performed "Live to Tell" on a cross, I supported Jesus, paying homage to his message, which is to love your neighbor as yourself and treat people with dignity. The Christians didn't like that," Madonna told Rolling Stone.
"Live To Tell" takes the sound of massive mid-'80s music and turns it into something intimate. The sounds are clean but immersive, with dazzling synths, powerful drum thumps, and occasional guitar screams. "Live To Tell" went to #1 on the Adult Contemporary charts, but it doesn't sound as canned and treacly as many other adult contemporary singles from the 1980s. Instead, it goes a little deeper.